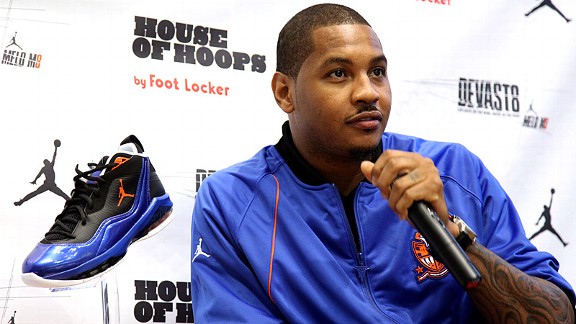 Rob Kim/Getty Images
Carmelo Anthony debuts his new Jordan Melo M8 sneaker at Harlem's House of Hoops on Wednesday.
When Carmelo Anthony made his Knicks introduction at the Garden on Feb. 23, the team played Dirty Money and Skylar Grey's song "Coming Home" to celebrate the return of one of New York City's own.
Now Melo is letting basketball fans across the country know where he came from through his new sneaker, the Jordan Melo M8. On Wednesday at Harlem's House of Hoops by Foot Locker, with rapper Jadakiss MC'ing, Melo unveiled the M8 to members of the media and 30 students from Eagle Academy's Bronx and Brooklyn locations. Melo showed off the shoe's insole badge, which says, "BRN IN BKLYN / REFINED ON HARDWOOD / MFD IN BMRE," a nod to his birthplace of Brooklyn, love for basketball and hometown of Baltimore. It also features icons like the Puerto Rican flag (Melo's father is Puerto Rican), the Brooklyn Bridge and his mom's initials "MA" (Mary Anthony).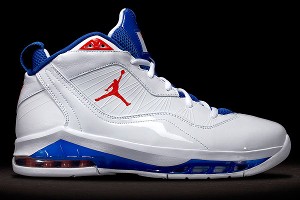 Courtesy of Sole Collector
The White/Orange Flash/Blue Ribbon M8 version.
M8's lead designer, Justin Taylor, who also worked on the M6 and M7, said the newest sneaker is all about "pure performance." There wasn't any particular car, object or product that inspired it; they just wanted to have a clean rand that wrapped the perimeter of the upper to provide support for Anthony's game. Melo always wants "clean" and "simple" represented in his footwear, and that was the goal with the M8 as well.
I spoke with Sole Collector magazine's creative director, Nick DePaula, who told me the M8 has "outstanding support, cushioning and traction." Here are his three favorite design cues:
Heel Max Air -- Melo always likes the Max Air platform in the heel for stability when he lands in the paint after finishing around the rim or grabbing a rebound.

Forefoot Zoom Air -- This is the first time in Melo's sneaker line that the Zoom Air is actually exposed in the forefoot. There's a plastic cage that houses it, and it's a 10 mm bag. Normally, Zoom Air in the forefoot is only 8 or even 6 mm, so there's even more responsive cushioning here.

Flywire -- There are strands of it in the upper, which help take out some weight in the shoe and give it a nicer fit through the midfoot.
Next week, Jordan Brand will be opening a media and consumer space in Manhattan at 159 Bleecker St. to showcase the M8, which has a suggested retail price of $135.
You can follow Jared Zwerling on Twitter.