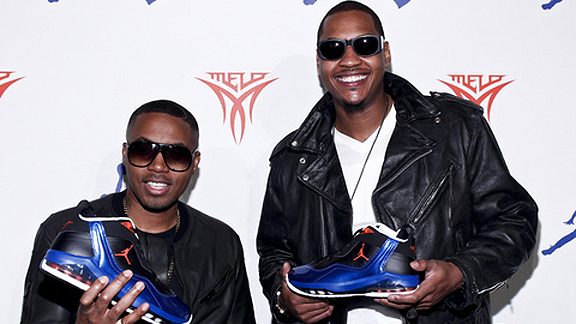 Courtesy of Jordan Brand
Carmelo Anthony appeared with New York-born rapper Nas at a special Jordan Brand event Thursday night at Hudson River Park at Pier 54 to celebrate the launch of Melo's new M8 sneaker.
What unfolded Thursday night at New York City's Hudson River Park at Pier 54 resembled a massive Michael Bay movie set.
With thousands standing on the pier, a helicopter swooped in close, and from it a man, wearing all white, dropped by rope like a Navy Seal and landed in the water. With that, a basketball video projected on to the entire wall of a neighboring building, a few hundred feet long, and then two ghost-like figures appeared on the water, and moved.
One was a person; the other was a sneaker. It was an image of Carmelo Anthony and his new Jordan Melo M8.
Last night, Jordan Brand celebrated the launch of Anthony's new sneaker with a lavish production overlooking the Hudson River. It included multiple food carts, pop-a-shot games, musical performances by MC Angie Martinez and rapper Nas, and a VIP area where Chris Paul and Maya Moore mingled with Melo.
Earlier in the day, Anthony was at 159 Bleecker St., where Jordan Brand is hosting this week, for the first time, a MoMA-like museum showcasing the sneaker. Flight Lab 159 features a large wooden structure of what is supposed to be a blown-up basketball court, with floorboards pointing out in all directions. The concept builds off the "explosive" theme of the M8, which is attached to different parts of the masterpiece. At the middle of it are two large projection screens, playing a video that describes Anthony's basketball upbringing, which is represented in the sneaker.
I spoke with Melo to get his take on the M8, releasing a sneaker for the first time in New York, his future footwear plans, how he sees his game evolving as he enters his prime and much more. Read on.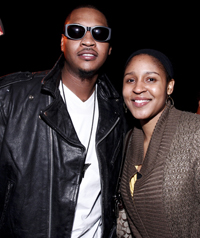 Courtesy of Jordan Brand
The first female member of Jordan Brand, Maya Moore of the WNBA's Minnesota Lynx, posed with Melo at the event.
Jared Zwerling: What does it mean to you to have this exhibit here in New York?
Carmelo Anthony: This is my first time we actually did an exhibit, and actually have the chance to let the fans come out to see this kind of whole Melo experience -- not just to go out there and buy the shoe, but to understand all the stuff that went into designing the sneaker.
Zwerling: What was the inspiration behind the design?
Anthony: I think this one just goes across the whole board, just bringing back my roots from Brooklyn to growing up in Baltimore -- kind of putting both of those styles together. They both have their own unique styles, and we put it into one -- in the sneaker form.
Zwerling: What technology cues were important to you?
Anthony: With the Flywire, this is my second time actually toying with it. With this one, I wanted to make it as light as possible with the most materials and textures that we could use, and we did it. We did the chrome blue, patent leather, we did the Flywire, we did the Dual-Air -- and all that still made the shoe 13.5, 14 ounces. I wanted to make the lightest shoe possible, but still be able to perform at the same time.
Zwerling: And light's the new thing now. You look at Derrick Rose's Crazy Light sneaker, and that movement is happening across all sports.
Anthony: Yeah. With the way everything's going now and the way that technology is going, you can do a lot of things with a lot of different new materials.
Zwerling: Did you feel any difference in your game with the new lightness?
Anthony: Yeah, yeah. The Flywire locks you down. I'm more stable. You're safe and secure, and then the patent leather gives it that look (laughs).
Zwerling: With the release of the sneaker in New York City, what's been the "wow" factor you've experienced?
Anthony: Just to be honest with you, I've been super excited and just surprised with the reaction that I've been getting from this particular launch. For me to actually be here and launch that sneaker here in New York, and for the fans to actually have something that they can be proud of and call their own, is great. So this year will be one of the most memorable shoes -- not just for me, but for the whole New York City; for everything.
Zwerling: When you went to China this summer for the Jordan Brand Flight Tour, what was the reaction you saw?
Anthony: It was just crazy. The fans are crazy -- in hotels, lobbies, some are on the streets. I've never really felt that before. I've been to Asia a lot of times, but this last time you really, really felt something different out there.
Zwerling: With you and your sneaker designer, Justin Taylor, what's the chemistry like? How do you guys work together from ideation to execution?
Anthony: With me, I'm there from Day 1. We already started on the next shoe (laughs). I'm there giving him my inspiration, I'm there giving him the materials that I like, the materials that I don't like. I might come in with a sketch here, a sketch there and then have them do what they do to it. But I'm there from day one. We're on the phone, we're in meetings -- I treat it just like it is; a business.
Zwerling: Looking ahead, what are your future plans with the sneaker line?
Anthony: We're working on a lot of stuff now. We're working on adding more pieces to the girl's side. I started working on the M9 last night (laughs). I'm trying to stay ahead of the game.
Zwerling: What are the different color schemes of the M8 you're going to be launching this year?
Anthony: We have the blue, black out right now. We have the blue, orange -- that's the home New York Knicks colorway. We have the smoke grey, orange. We have a Christmas colorway green with the orange shoestring. We have a black and red. We have another black and blue. We have an Oak Hill Academy black, red and yellow. We have a white, orange that's serious. We're working (laughs).
Zwerling: With your wife, LaLa, in the mix, is there going to be a female-inspired sneaker? Has she provided any input?
Anthony: (laughs) She hasn't done yet, but hopefully in the near future we can make a female colorway. I might try to do something with this one.
Zwerling: Is there a friendly rivalry between your two other Jordan Brand friends, Dwyane Wade and Chris Paul, when each of your sneakers are released?
Anthony: Nah, not really. There's us, but then you have other guys -- not even athletes -- who have signature shoes out there. You see what Swizz Beatz is doing with Reebok, you see what Lil Wayne is doing with Converse, so all of that is like a friendly competition. At the end of the day, you want to be always the one that's one step ahead of everybody, and when it comes to hip-hop, culture and art, you want to be that signature guy.
Zwerling: Growing up, what were your favorite Jordans?
Anthony: The IXs, the XIs. I was able to play actually in the IIs when I got to the NBA, so that was always one of my favorites. The IIIs, the V's. I can go on and on.
Zwerling: How often do you change sneakers?
Anthony: I usually wear a new pair every game, but to wear 82 new pairs of shoes, it's like give me a break (laughs).
Zwerling: As your game progresses, and you're in your prime right now, do you think of a sneaker as to how it's going to adapt to your game?
Anthony: Yeah. In this one, I really catered it towards me coming back lighter, quicker. I'm a little bit more agile, so I think with this one I wanted to lock down making it as light as possible. You feel like you really have nothing on your foot.
Zwerling: Can we expect more of a back-to-the-basket game moving forward in your career, a la Jordan as he entered his prime?
Anthony: Yeah. That's something I always did; that's like my bread and butter. I think just to complete the whole game, you just gotta work on everything.
Zwerling: Training-wise, what did you work on this offseason? Anything different?
Anthony: I got back into boxing this year just to get that whole boxing mentality -- just to tune up that eye-hand coordination, the stamina, the conditioning. I get in there and spar. Some days, we work on the defense and let people swing at me, and I try to block them. Other days, I'm actually swinging and they're blocking. And some days, we spar.
Zwerling: There's one move you do -- it's a quick step-back off the triple threat into a shot. I don't think I've seen anyone else do that. It happens so fast, it's like you don't even take a dribble. Where did that come from?
Anthony: (laughs) Yeah. With my trainer, we go in the gym and he just lets me shoot around for about five, 10 minutes. In that five, 10 minutes, I'll just be working on something, and he would look at that. And that's how we figured it out. Like two or three years ago, we were in the gym and I was actually toying around, just goofing around and playing with that move. And he added that into the workout rotation, and ever since then it was just repetition.
Zwerling: In Mike D'Antoni's offense, you became a very good 3-point shooter. Was that also from repetition in the gym shooting and shooting from that range?
Anthony: Yeah. It gives me more opportunity to shoot 3s and stuff like that. Whereas in Denver, it was more to the basket. The way we played, it was up and down the court. We didn't really shoot that many 3s as a team and for me as an individual. For me to have that spread-out offense now, it's there.
Zwerling: By the way, I hear there's a little world tour possibly.
Anthony: We're working on it. We're trying to see what's happening at home first.
You can follow Jared Zwerling on Twitter.