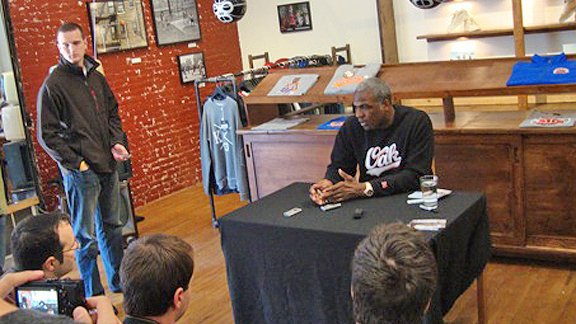 Courtesy of K1X
Charles Oakley meets with the media at last week's launch event for his new signature clothing line with German-based K1X.
With another long and "big day" ahead of NBA labor negotiations -- as Knicks guard and union VP Roger Mason Jr. tweeted -- here's something that will help you pass the time: a candid conversation I had with Charles Oakley on Tuesday talking about his post-career, hoops and the lockout. Let's just say the guy stays active -- just like he did around the basket for the 'Bockers. Last week, he was in New York City to promote his new clothing line with K1X, a German-based company. And that's where we started off.
Jared Zwerling: How did you get connected with K1X?
Charles Oakley: Just a few years back, I got in touch with one of them at my car wash [in Brooklyn]. We started talking about [two of their endorsers] World B. Free and Ron Artest [now Metta World Peace], and how I could get involved.
Zwerling: From a design standpoint, did you give your creative two cents?
Oakley: We met a couple of times at All-Star [Weekend] in Phoenix [in 2009], different photo shoots and stuff like that. I agreed with what they were doing with it. I thought they were doing a good job. Hopefully we can get people wearing it. Next year, we might be working on sneakers. Hopefully we can build something with K1X, where I can branch off and I can get my own store and sell my own products.
Zwerling: Is this your first time working on a clothing launch?
Oakley: Yeah. The second one I'm working on is in Cleveland. It's called Cocktail Collection. Hopefully we can collaborate and create a great brand. It's a little bit different than K1x. It's more of a hat, T-shirt line. K1X is also shorts, jackets and sweatshirts.
Zwerling: Since your playing days, have you been more interested in fashion?
Oakley: I've always been into fashion. I'm also working on a couple of movies, working on a cooking show, working on a restaurant in New York. Hopefully it'll feature Oak's turkey burgers.
Zwerling: With Madison Square Garden getting renovated, maybe you can open a turkey burger concession stand in there?
Oakley: I don't know about all that (laughs).
Zwerling: Have you gotten a chance to check out the arena's new features?
Oakley: Nah.
Zwerling: You mentioned the movie projects. What are you working on?
Oakley: I invested in a couple movies. I did one with [producer] Kevin Edwards called "Joy Road." It actually came out last week. I'm investing in another movie called "Pastor Brown." We shot it about two summers ago. We're hoping it's going to be out in January or February. It's about two daughters; they both go to college. One's coming home; one's going to New York, undecided about her career. It's about the ups and downs. It's a good movie.
Zwerling: You're keeping busy I see. And you have a cooking show as well?
Oakley: It's still in the works; hopefully something catches on. I like being in the wildlife and trying to start a fire with two pieces of wood, and hopefully it sticks (laughs).
Zwerling: Do you fire up the grill a lot?
Oakley: I do it all. I grill, I cook in the kitchen, I cook in the car, I cook in the garage if you got an oven in there. I cook whatever. Breakfast food. I mean, all around. I'm like a surround-sound system. If you want to cook, you've got to know how to cook everything. What you like, what somebody else likes -- a lot of different things.
Zwerling: With the show, would you incorporate hoops talk or just keep it to the food?
Oakley: We've worked on me hosting a talk show with my man [former New Jersey Net] Jayson Williams. We shot some pilots in New York about a year or two ago. It was me hosting, cooking and talking at the same time. I would let someone else make a dish and I'd talk to them. It was me cooking -- different things. We've been shopping it around. We're on a shopping streak with networks. They said it takes time.
Zwerling: I know you had back surgery during the summer. Will you be healthy enough to return to the Bobcats bench if there's a season?
Oakley: That's still up in the air right now. I don't want to be out there if I can't be 100 percent. I want them to give me their full attention. I don't want to have them second guessing me if I can't tell them what to do. I think that's the most important thing to the game. A lot of coaches cut corners; they're not really giving details. They're trying to talk details; you've got to show them the details. You've got to be on the floor. We're losing what our game is really about; it's about going out, playing hard and knowing what you're doing.
Zwerling: What things do you teach the players when it comes to rebounding and playing the post?
Oakley: It's a different game now. You can play zone, you can't hand check. We're trying to show them what we need as a team and what's in the league now. When you go back to the 80s and early 90s, it's a whole different ballgame. We're away from that; that's why the game is terrible right now. Guys aren't getting better. They stay in one stage. And they wonder why guys can't hit free throws, why guys can't make shots down the stretch? You just can't start hitting shots and making free throws; you've got to work on it.
Zwerling: What do you think about all the under-jersey pads players wear now for protection? Back then, there was hardly any of that.
Oakley: I think it's embarrassing. It's my opinion; everybody has an opinion. You condition to take the bumps and bruises. You're going to get hurt no matter what you got on.
Zwerling: What rules today do you like and dislike?
Oakley: I never liked when you can change the rules during the year. That kills the game. They don't catch on like they did in the older days, and the playerrs don't catch on quick. They forget about this rule, they forget about that rule. I don't know if they know the rules. It's nothing against them; the league shouldn't be like that. I think it's a control game. I feel sorry for the fans who watch and think they're getting their money's worth out of it.
Zwerling: But the league has a strong core of superstars right now.
Oakley: I can't count 10 superstars in the league right now. You've got to be easy saying superstars; just say they're good players. As an ex-player, no offense, but I go about what I see. I think when we played, you couldn't dribble the ball seven, eight, nine, 10 times to get a shot off. I mean, you would be dead after two or three dribbles. Now it's a dribble game and low-percentage game for shooting outside.
Zwerling: Where do you think fans then can watch the best-quality basketball?
Oakley: I don't know. I think when you look for good basketball, you might have to go back and look at some old films. LA, Boston, Chicago. All those teams had marquee players, Hall of Fame guys. If you have a Hall of Fame guy on your team, you're going to see good basketball. The Bulls when they had their run; the Pacers, Utah. We [the Knicks] tried to get over the hump, but we didn't have enough to win the big one.
Zwerling: It's interesting because the Knicks could use a guy like you right now. What does it mean to you when you hear fans say, "We need an Oak?"
Oakley: I mean, I guess they appreciate the way I played the game. I tried to play within my skills. When we played, you had to play your position. If you were a center, you played center; if you were a forward, you played forward. Now, you've got guys trying to play two positions. That's another thing I don't like about the game -- they're trying to make the NBA European-style.
Zwerling: A lot more 3-point shooting, like the Knicks.
Oakley: Well, I ain't going to say shooting. They can't really shoot. It's good for the European guys to come over here because they're more sound. They learn the fundamentals. U.S. players are not fundamentally sound. We're just an And1 team. I think AAU -- I didn't play AAU growing up -- doesn't teach the guys fundamentals.
Zwerling: Looking back on your time playing, what do you credit for helping you understand how to play the game, in your eyes, the right way?
Oakley: I just came in with attitude. I was from a small Division II school, didn't know what to say. I was in good shape, my conditioning was always high. I knew my role was a scorer in college, but when I got to the NBA, to the Chicago Bulls, they had a guy who could get 30 [Michael Jordan], and I knew I was a good rebounder. I almost had to make a U-turn with my game. In the NBA, everybody wants to be a scorer, so I figured, well, let me play defense, rebound -- just play tough. Those are the most important things. Know what you're doing, know who you're playing with, know what you can do at all times on the court.
Zwerling: What were you like during practice?
Oakley: I was all out. I mean, in Chicago, my first year I was the third power forward, so I had work to do. I came from Division II, I didn't have any respect. People said he's going to be the steal of the draft, so I guess I was the steal of the draft. But now I had to prove to management why I was the steal of the draft -- coming in on time, knowing the plays, knowing what the coach wanted out of me, knowing what management expected from me. I stayed out of trouble, did the right thing.
Zwerling: When the 1998 lockout happened, what was your mentality back then? Did you ever think about playing overseas?
Oakley: Nah, I didn't want to play overseas. I knew both sides would always work it out. When we were locked out, we had some ups and downs. I think what's going on is players don't play themselves and players don't draft themselves. It's in the hands of management. I was a long-shot player. When you take me from Division II to the ninth pick in the draft, you expect me to perform. It creates a whole standard for why they would give another guy from a small school a chance to play in the league. It wasn't just me getting drafted to the league; it was players from all the black colleges, all the small colleges around the U.S. It said that no matter where you went, if you did what you were supposed to do, you would get a chance.
Zwerling: So what does this lockout come down to?
Oakley: I don't know what this lockout comes down to. I have nothing to do with it. But people are getting laid off and they gotta find another job. That's what I'm worried about. I ain't worried about the athletes.
You can follow Jared Zwerling on Twitter.