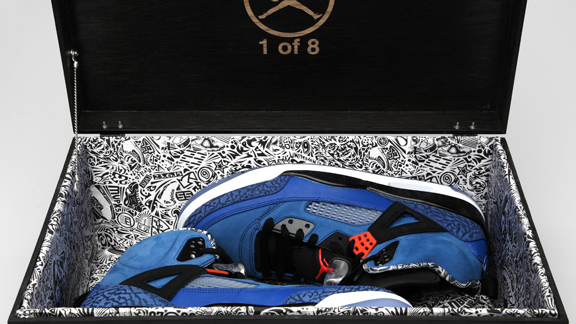 Courtesy of Jordan Brand
Spike Lee's latest sneakers, the Jordan Brand Spiz'ike, were unveiled on Saturday at NYC's Footaction.
It's as almost if Spike Lee has been a player for the Knicks all these years -- except he doesn't have the stats to back it up. But what he does have is basically a bench seat, custom-made jerseys, fans who come to the games to see him and ... his own signature sneaker.
On Saturday at Footaction, across the street from the Garden, Jordan Brand released the second version of the Spiz'ike, a compilation of previous Air Jordans in the Knicks blue and orange colorways. If you recall, the legendary Mars Blackmon, a character from Lee's movie "She's Gotta Have It," became a spokesman for Nike in many of his directed commercials with Michael Jordan in the 1990s. Years later, the first Jordan Spiz'ike hit stores in 2006.
The latest $175 Spiz'ike incorporates elements of each Air Jordan advertised in those very commercials, including the:
Air Jordan III -- The midsole and outsole, and the elephant print redesigned to spell out "Spike"

Air Jordan IV -- The "Wings" strap on the sides of the shoes that hold lace loops

Air Jordan V -- The shoe's silhouette and the netting on the side

Air Jordan VI -- The tongue and lace locks

Air Jordan IX -- The back tab
Speaking of sneakers and New York City, Nuggets forward Chris Andersen, Bulls swingman Kyle Korver and Sixers guard Louis Williams were in town last week at Cedar Lake in the Chelsea district to promote Converse's two new sneakers: the Defcon (worn by Korver and Williams) and the Pro Leather 2K11 (Andersen). Another endorser, Mavericks guard J.J. Barea, was not present.
Andersen has actually been wearing his pair during his incline training at the Red Rocks Amphitheatre in Morrison, Colo. He said the shoes have made a world of difference in his career.
"You're careless whenever you're at a young age and you're growing up because you can get away with what shoes you wear at that age," Andersen said. "Once you get older and you start putting that wear and tear on your body, your ankles and your feet, it does matter what shoes you wear. I've been training with these Pro Leather 2K11s down in Texas with my former high school basketball, Rob Stewart. I've also been running the incline in Colorado at Red Rocks. The way my style is, running up and down the court, jumping in the air and landing, puts a lot of wear and tear on my shoes. But I've had no problems with them. I love them."
Keeping to the theme of the lockout, Converse, which is a subsidiary of Nike, joined the lockout-related campaign trail. Their message at NYC's launch event was "Free Your Game," with the following words: "You can't lockout what's always been free. Courts are always open." Over the summer, Nike spread its slogan "Basketball Never Stops" through different charity and exhibition game across the country.
The Defcon, offered in 12 different colorways, is now available at Foot Locker for $90. The 2K11, offered in white/black/red and black/white, will be released on Nov. 15 for $100.
You can follow Jared Zwerling on Twitter.