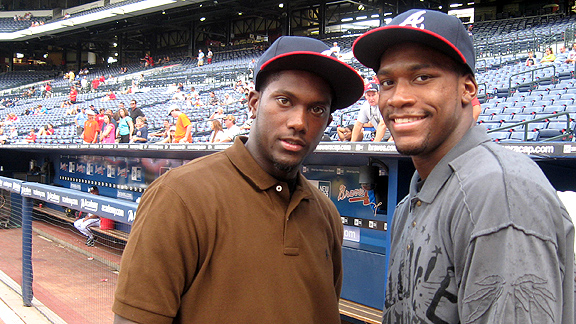 Courtesy of Stephanie Douglas
Brothers Toney (right) and Harry Douglas were once backcourt buddies at Jonesboro High (Jonesboro, Ga.). Now, they're the sixth pair of brothers to play in the NBA and NFL.
Day 145 of the NBA lockout arrived this morning, and the prospects of having a season are looking grimmer and grimmer as an antitrust lawsuit sits on the table.
But even with long-term uncertainty casting an ominous shadow over the NBA players, some of them are preparing today as if a new CBA will be ratified at any moment and the opening tip will come later this week.
One of those guys is Knicks combo guard Toney Douglas, who's been unusually focused in his efforts by maintaining a close proximity to the team's training ground.
While many of the Knicks are currently either back in their hometown, temporarily living in Los Angeles or exploring new interests like Carmelo Anthony and Amare Stoudemire, Douglas has hardly left New York. He is committed to staying on track with an early morning workout routine at Brewster High (Brewster, N.Y.), only 40 minutes from the Knicks' training facility in Tarrytown.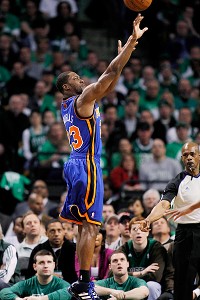 Greg M. Cooper/US Presswire
Toney led the NBA in 3-pointers made last season after the All-Star break (68).
During the week, Douglas has been focusing on improving his outside shot, ball-handling, conditioning, strength, explosiveness and different offensive moves to get to free throw line more this (potential) season. Not only that, Douglas is pushing through therapy sessions to heal his right shoulder, which was surgically repaired in May after the Knicks were swept in the first round of the playoffs by the Celtics.
So why the relentless pursuit with almost a fully-cemented wall in front of the players? Three words, "Don't let up," from his older brother of two years, Harry, 27, who is now a wide receiver for the Atlanta Falcons.
"He was in the same situation [during the NFL lockout] and he kept working with his teammates," Toney said. "He told me, 'You never know when a deal can get done. You just want to make sure that you're always prepared.'"
Harry instilled that persistence in Toney when they were both teens, especially through his physical play on the football field at Jonesboro High (Jonesboro, Ga.). At first, Toney wasn't flattered by Harry's rough behavior with him, but he soon realized the impact it could have on his basketball development, from playing aggressively on offense to defending like a pit bull to diving for loose balls.
That mentality helped Toney excel in high school, flourish at Florida State and become the Knicks' go-to sixth man last season, even while battling an injury that required an eventual operation. Unbeknownst to fans, he was playing through a torn labrum in his shooting shoulder during the latter part of the second half of 2010-11, and he still led the league in 3-pointers made after the All-Star break (68).
"My brother always used to try to bully me because he was the big brother, but he made me tougher and play physical," Toney said. "He loved football because he's a physical guy. He'd always beat me at the house playing one-on-one and stuff like that. He'd foul me and we'd go back and forth, and my dad used to be like, 'Ya'll chill out, ya'll chill out' (laughs). But [Harry] made me a better player and a better person."
Harry also helped Toney stay focused on the court, like having him make a certain number of outside shots and then sink 10 free throws in a row. On the gridiron, Toney, who never padded up competitively in high school but says he can throw "65, 70 yards easily," heaved passes to Harry when he practiced his different routes.
Not only were they were inseparable growing up, also playing baseball and running track, they starred in the backcourt together at Jonesboro High from 2002 to 2004. The "Dynamic Duo," as people would call them, led the Cardinals to back-to-back state championship games in the two years before Harry graduated. While Harry averaged 20.5 ppg, 4.5 apg and 3.0 rpg as a senior, Toney was even better as a junior, averaging 28.5 ppg, 7.5 rpg and 4.0 apg. From time to time, they'll watch videos of their old games and reminisce how exciting it was -- and how unstoppable they were.
"We used to drive and kick, shoot threes and everything," Toney said. "My brother was very athletic. He would always dunk and we'd do the run-and-gun together. We had a real special moment in high school playing together."
"I know teams used to play a Triangle 2 on me and my brother, but that didn't work (laughs), especially with him being so good," Harry said. "There were times they would try and put a Triangle 2 on him, put two people on him, and that's when I scored like 30 points or what not. When a team came out and played man, that definitely didn't work (laughs). Then if they played zone, he was such a good shooter and had range. He would shoot the ball at NBA range. It was a lot of fun. It was tough for teams to try to stay on both of us."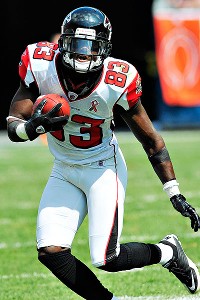 Associated Press
In 10 games with the Falcons, Harry has already surpassed his stats from his two previous seasons (29 catches, 383 yards).
While they were swishin' and dishin', Toney and Harry talked about taking their collective talents to the same college campus -- in fact, Louisville head coach Rick Pitino was recruiting Harry for basketball -- but they were both too involved in their respective sports. At one point, though, it came close to happening when they were underclassmen.
"My brother's junior year, my senior year of high school, he committed to Auburn," Harry said. "When I committed to Louisville for football, and [head coach] John L. Smith left and went to Michigan State, I actually was going to go to Auburn and play football and basketball. But [head coach] Bobby Petrino went to Louisville, so that's why I just stayed."
Their commitment to their craft paid off. The Knicks made Toney the 29th pick in the 2009 NBA draft, and Harry was selected in the third round by the Falcons in 2008. The Douglases became only the sixth set of brothers to play in the NBA and the NFL. Coincidentally, with Toney coming off his best season, averaging 10.6 points and only missing one regular-season game, Harry is now having his best campaign. In 10 games so far, he has 29 receptions for 383 yards, and in Week 10 he had a career-high eight catches for 133 yards. He's just awaiting his first touchdown of the year.
"I'm so proud of him and his work ethic," Toney said. "That's one reason why my work ethic the way it is, him being a big brother to me, telling me a lot of things. When he first got into the league, and I was in college, he prepared me with my work ethic, even though he played football. He told me, 'Always stay humble.' He wants to become the best player that he can be. I take that from him."
Typically during the fall, because they're both in season, they only see each other a couple of times and not during the holidays because one of them has a game. But they make sure to talk and text every day. Not surprising, it's usually Harry who is the one still giving advice. For 11 a.m. Knicks practices during the days Harry has a game, Toney makes it a priority to get to the team's training center at 8:30 to shoot around and not after, so he won't miss the Falcons' opening kick-off.
But now, since Toney is in lockout mode, he's been able to hang out with Harry down in Atlanta more often. In fact, Toney has attended a couple of his games along with their father, Harry Sr., mother, Stephanie, and older sister, Jamila, 29.
Because of the NFL schedule, Harry has more ample time to watch Toney in person, and he becomes a regular at MSG come January -- unless, of course, the Falcons are fighting for a Super Bowl appearance. This past NBA season, Toney really impressed Harry by sticking to the older bro's blueprint.
"I think, the first thing, he is a focused person. And me being so close to him, I know he works hard," Harry said. "When you look at him play, he's not just an offensive player; he's a defensive player. He can score, he can play defense, he can get assists, he can rebound; everything you need on the basketball court, he can do it. It's very rare you find a player who can score just as well as he plays defense."
Toney knows fans are aching to see the upgraded Knicks return to the newly-renovated Garden, but he also knows he may never have this extended time again in his career to be with his brother. Even though they have polar-opposite personalities (Toney is quiet, while Harry is outgoing), they say their differences balance out well when they're together, and sometimes they still get mistaken for twins. Most importantly, they call themselves "best friends," and even though Harry was the instiller, they both were big believers -- in each other.
"A lot of people actually didn't believe in me and my brother, but we always believed in each other," Harry said. "We always worked hard and we knew that one day the hard work had to pay off somewhere. It was fortunate that we both were able to make it to the professional level and play our sport, and we just thank God every day for it."
You can follow Jared Zwerling on Twitter.