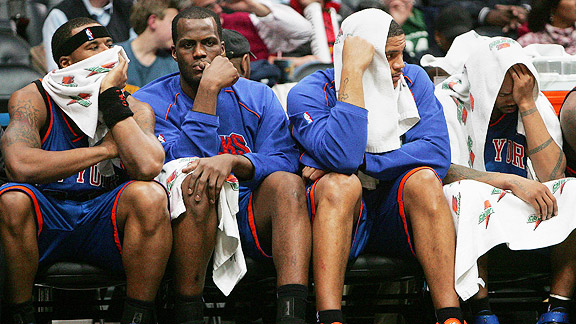 To help kick off ESPNNewYork.com, ESPN executive editor Kevin Jackson asked me to undergo a rather painful exercise. He asked me to think back over the past 11 years, since the Knicks were last in the NBA Finals, and come up with the 10 biggest mistakes the franchise has made in that time.
Having grown up a Knicks fan, this practically broke my heart.
It was particularly distressing because I actually had a hard time picking only 10. Left on the cutting room floor were such gems as acquiring Shandon Anderson and Howard Eisley (and their contracts) in 2001, and signing Jared Jeffries to a five-year, $30 million deal in 2006. Heck, the Knicks even ditched the best play-by-play man in basketball, Marv Albert, in 2004.
But the 10 most painful mistakes are here, in this photo gallery. See them and weep.