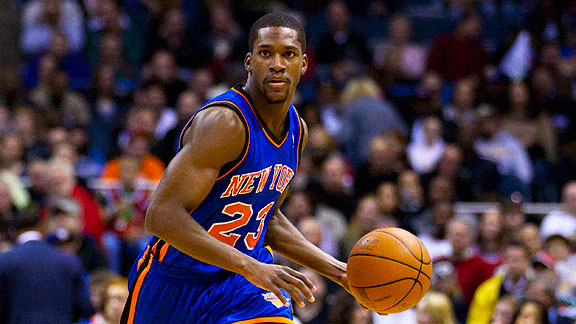 Jeff Hanisch/US Presswire
Signs point to Toney Douglas being the Knicks' starting point guard on Christmas.Starting today and continuing through Dec. 23, ESPNNewYork.com will run a series called "Christmas Countdown," examining a hot topic each day that surrounds "your New ... York ... Knicks!" as PA announcer Mike Walczewski says with slight pauses and strong punctuation.
Today's Hot Topic: The team's dominant storyline
No question, right now it centers around the starting point guard position. Can third-year player Toney Douglas, a natural combo guard who led the NBA in 3-pointers made after the 2011 All-Star break (68), become more of a facilitator and better decision-maker?
Keep this in mind: The Knicks still have a two-year, $2.5 million exception to spend. Will they use it on Baron Davis? B-Diddy missed his third straight day of Cavaliers training camp Sunday, with what the team is calling tightness in his lower back, and they have until this Friday to decide whether to use their amnesty rights on him.
However, it's a strong possibility that the Knicks will reserve that money for small forward Shawne Williams, who would return to the team as a solid backup for Carmelo Anthony. Therefore, all signs point to Douglas getting the nod on Christmas, and Mike D'Antoni is confident in that plan. While naysayers are quick to downplay Douglas, based on his erratic play during the Celtics' sweep of the Knicks in the first round of the 2011 playoffs, they overlook that he was suffering from a torn labrum in his right shooting shoulder. D'Antoni says Douglas' drive will enable him to bounce back.
"That playoff experience, although he got hurt, that will help him," he said. "Toney is a very determined young man and is one of the reasons why we can do this. We saw what Toney did when he was out there by himself and he did a great job. He was 4-2 in that six-game stretch [in early March of last season] against really good teams, and we expect more of the same."
In those six games, Douglas averaged 16.8 points and 6.8 assists and made 17 3-pointers (48.6 percent), as the Knicks knocked off the Hornets, Hawks, Jazz and Grizzlies.
While D'Antoni has penciled in Douglas in the first unit, he envisions a three-guard rotation of Douglas, Mike Bibby and Iman Shumpert, with Anthony getting consistent touches bringing the ball up the court and running the pick-and-roll, which he displayed during Sunday's practice.
"I think we're OK," D'Antoni said. "I like the way Shumpert looks and he'll keep getting better, so we've got three [point guards]. Like I said, the ball is going to go through Melo a lot, so there are a lot of options that we have."
Responding to the notion that the Knicks still have a hole at the starting sport, Douglas said, "I don't listen to none of that.
"That's peoples' opinions. Everybody's going to have an opinion. That's how I see it. I just come and work out every day, every morning before practice, and I get better. At the end of the day, it'll show on the court. That's how I am. I'm never worried about it; none of that stuff. My play speaks for itself. I'm going to play 100 percent every time I'm on the floor. Mentally and physically, I'm ready."
During the offseason, while rehabbing his shoulder, Douglas says he studied a lot of film to see how he should best deliver the ball to Anthony and Amare Stoudemire, who are supportive of Douglas starting. Not only is Douglas looking forward to sharing some point guard duties with Melo, who's slated to play more point/forward, but he's excited to extract wisdom from Bibby, a 13-year veteran.
Douglas doesn't want to get wrapped up in whether he's starting or coming off the bench. His focus is winning games, and after the first full practice Sunday, he believes the team has what it takes to win a title.
"We're going to have a fun year -- even off the court," Douglas said. "I can already see the bond, even though we've got two new guys coming in [Tyson Chandler and Bibby]. We're all ready and our goal is not just to make the playoffs; our goal is championship. That's what we're looking forward to."
You can follow Jared Zwerling on Twitter.