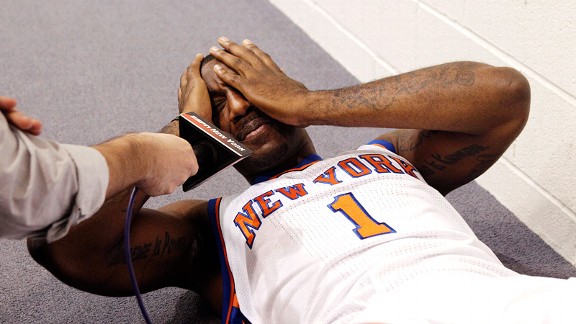 AP Photo/Kathy Willens
Amare Stoudemire will have to take his rest whenever he can get it.Continuing through Dec. 23, ESPNNewYork.com will run a series called "Christmas Countdown," examining a hot topic each day that surrounds "your New ... York ... Knicks!" as PA announcer Mike Walczewski says with slight pauses and strong punctuation.
Today's Hot Topic: It's a sprint, not a marathon.
How do you fit 66 NBA games into a 124-day schedule?
The answer, of course, is not comfortably.
The NBA's lockout-shortened regular season will be tough on all 30 teams. But it presents specific challenges for the Knicks.
Consider: Mike D'Antoni's club has four sets of four games in five nights and 21 back-to-backs.
The Knicks have a dreaded back-to-back-to-back from Feb. 2-4, which starts a grueling five-games-in-seven-nights stretch.
Without a doubt, this season will be sprint to the finish. Marathon runners need not apply.
In theory, the Knicks shouldn't have a problem keeping pace. Their oldest projected starters, Amare Stoudemire and Tyson Chandler, just turned 29 this fall.
But this schedule would put a strain on a 16-and-under AAU team.
"It's going to be a challenge," Stoudemire said.
The biggest challenge will be keeping their surgically repaired superstars pain-free.
Carmelo Anthony had offseason surgery to repair nagging right knee and right elbow injuries.
Stoudemire spent most of the four-month lockout strengthening his balky back, the same injury that hindered him throughout the Knicks' playoff series against Boston. Stoudemire's surgically repaired knees also gave him trouble at times last season.
D'Antoni will do what he can to keep his guys fresh.
That means keeping a close watch on everyone's minutes and expanding the rotation from 8-9 guys to 10-12, talent permitting.
"There will be some games where guys will be stiff from the night before and [will] not be able to go," D'Antoni said. "All 12 will be utilized for sure at some point."
Of course, this the NBA, not major league baseball.
D'Antoni doesn't have the option of giving Anthony, Stoudemire or Chandler a regular night off like Joe Girardi can with his regulars.
"It's a battle, it's a fight and we have to prepare ourselves for that," Anthony said.
The best way to prepare -- and the method D'Antoni will likely turn to most often -- is to rest your starters between games. It seemed to work with Stoudemire last season; he skipped plenty of practices and was able to play 36.8 minutes a night, tying a career high.
D'Antoni has already stated that he'd like to cut Stoudemire's minutes this season. But the coach is in the final year of his contract. So there is pressure on him to win. If that means playing Stoudemire 35-40 minutes a night, so be it.
"If we're fighting every game, trying to get to the playoffs, he's going to have to play heavy minutes," D'Antoni said Monday. "He's going to have to carry the burden."
That burden seemed to get to Stoudemire last March. He played in 18 games in 30 days that month. In six of those 18, he played more than 40 minutes. At the end of the month, the nine-year vet called that manic March "maybe the hardest month I've played in my career."
Bad news, Amare. The Knicks will play an average of 17 games a month this season.
Hope you're ready for a sprint.
You can follow Ian Begley on Twitter.