Continuing through Dec. 23, ESPNNewYork.com will run a series called "Christmas Countdown," examining a hot topic each day that surrounds "your New ... York ... Knicks!" as PA announcer Mike Walczewski says with slight pauses and strong punctuation.
Today's Hot Topic: Worst-case scenario
If you're wearing rose-colored glasses, please remove them before reading any further.
We won't be talking about what the Knicks have to do to make a run to the NBA title. Nor will we be discussing how much they can improve with Tyson Chandler in the paint.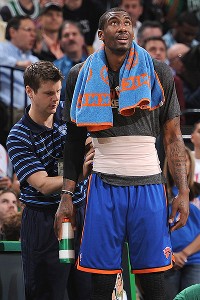 Brian Babineau/NBAE/Getty Images
Back spasms derailed Amare Stoudemire during Boston's playoff sweep of the Knicks.
Rather, we're examining the possibility that Amare Stoudemire can't keep up with the condensed 66-game schedule, and that the Knicks' show no improvement on the defensive end under assistant Mike Woodson.
You know, Doomsday stuff.
Why? Because there's a possibility any of the above could happen (and our editors asked us to).
So let's take a look at what could (reasonably) go wrong for the Knicks this season, and the ramifications of each failure.
STOUDEMIRE CAN'T HANDLE THE SCHEDULE: Stoudemire played in all 18 of the Knicks' games in March last season. In six of those 18, he played more than 40 minutes. At the end of the month, the nine-year vet called that manic March "maybe the hardest month I've played in my career."
The bad news for Stoudemire is this: The Knicks will play an average of 17 games per month this season.
How will Stoudemire's balky back and surgically repaired knees respond to the tough schedule?
The worst-case scenario here has Stoudemire struggling through nagging injuries and missing time. If so, that would certainly hinder the Knicks on offense.
CARMELO ANTHONY AS A FACILITATOR: The Knicks have penciled Toney Douglas in as their starting point guard. But Mike D'Antoni has said that Carmelo Anthony will get an opportunity to facilitate the offense, much like Larry Bird did in Boston.
But what if Anthony facilitates the offense only for himself, freezing out other teammates?
Anthony showed last season (and throughout his career) that he stops the ball on offense. So relying on him to keep teammates involved may be a dicey proposition -- particularly if Stoudemire doesn't get as many touches as he's accustomed to.
Remember, Stoudemire's scoring averaged dipped about three points after Anthony came to New York last season.
The worst-case scenario here has Anthony and Stoudemire sniping at one another over who's taking more shots -- and the Knicks suffering as a result.
DEFENSE DOESN'T IMPROVE: The Knicks' defense -- which was downright offensive at times last season -- should improve with Chandler's presence in the paint.
Woodson was brought in as an assistant coach to help teach strengthen the Knicks on the defensive end. But what if he can't get through to any Knicks not named Chandler? What if Anthony continues to play defense on selective possessions? What if Stoudemire's reluctance to play hard-nosed 'D' when he's in foul trouble still burns the Knicks?
The worst-case scenario here has the Knicks finishing with the seventh or eighth seed in the East and getting swept by Miami or Chicago in the first round. This would lead to D'Antoni not being asked back for next season. For some of you, of course, that wouldn't be a bad thing at all.
You can follow Ian Begley on Twitter.