Amare Stoudemire doesn't seem excited about the prospect of adding Baron Davis to the Knicks' roster.
"This guy's out for 8-10 weeks, man. He's not our concern at all," Stoudemire said Thursday. "We can't do anything about his injury. Right now we can't afford to have any [setbacks]. We have a positive thing going. We feel great about our guys. Everybody's healthy, so we've just got to keep it going."
Davis' agent confirmed to ESPNNewYork.com that the amnestied guard is expected to be out for an extended period with a badly herniated disk in his back.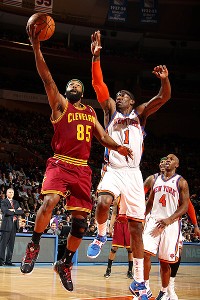 Nathaniel S. Butler/NBAE/Getty Images
Baron Davis to the Knicks? Amare Stoudemire isn't focused on that possibility.
"Baron is out a minimum of 8-10 weeks if there's no setbacks in his physical therapy," agent Todd Ramasar said Wednesday night via text.
Once he's formally released, Davis will be made available to teams with salary cap space in a waiver auction.
If he clears waivers 48 hours after his release, Davis, 32, will then have the right to proceed to free agency and pick his next team.
The Knicks are over the salary cap so they will not be permitted to bid on Davis. They would have to wait until he clears waivers and sign him via free agency.
Davis could fill a need at point guard.
The team has penciled in Toney Douglas as its starting point guard and Mike Bibby as a backup, but could be interested in bringing Davis on for the veteran's minimum of $1.4 million. The Knicks also have the $2.5 million room exception to lure Davis, since it wasn't used on Jamal Crawford or Shawne Williams.
According to a source close to Davis, he would welcome the opportunity to play in New York.
"Baron loves New York," the source said. "He's a big-city guy."
The source said Davis would also be intrigued by a return to the West Coast.
Mike D'Antoni said on Thursday the Knicks hadn't discussed bringing on Davis because he has yet to clear waivers.
"We'll just kind of monitor the situation going forward," D'Antoni said. "[Acting GM] Glen [Grunwald]'s going to keep his eyes and ears tuned to the league and then we'll try to better the team if we can."
You can follow Ian Begley on Twitter.