Continuing through Dec. 23, ESPNNewYork.com will run a series called "Christmas Countdown" examining a hot topic each day that involves "your New ... York ... Knicks!" as PA announcer Mike Walczewski says with slight pauses and strong punctuation.
Today's Hot Topic: Bench boss
The Knicks have now lost out on four potential sixth men in free agency who would have provided scoring from the 2 and 3 positions: Jamal Crawford, Shawne Williams, Reggie Williams and, on Friday, Maurice Evans.
So now the focus is back on 6-6 swingman Bill Walker, who missed his fourth straight day of practice on Friday with a strained left groin. But the team expects him back for the season opener on Christmas Day against the Celtics.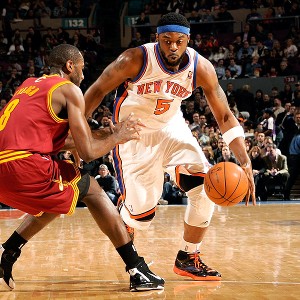 Lou Capozzola/NBAE/Getty Images
Bill Walker suddenly looks like a key player for the Knicks this season.
While Walker's name doesn't jump out at you -- his season average last year was 4.9 points per game -- he played well toward the end of the season, stepping in for a struggling Landry Fields. In April, he scored in double figures four times (13, 10, 18 and 12) and in the playoffs against the Celtics he went for nearly 10 points twice -- plus he played decent D against Ray Allen.
But Walker knows he missed a few reads guarding the All-Star sharpshooter, and the playoff sweep made him hungry going into the offseason. He packed on some muscle to bring him up to 239 pounds and worked hard on his all-around game back home in Huntington, West Virginia, where he enjoyed the birth of his daughter, Milan Skywalker.
"My expectations for myself are always going to be higher, especially on the defensive end," Walker said. "I gave up a couple shots to Ray I know. Things like that, that's how you lose. I just want to get back and just get better on the defensive end."
On offense, Walker will get more looks from 3-point territory with the addition of Tyson Chandler down low forcing the defense to draw closer to the basket. And if he can continue to shoot a high percentage, building on his momentum from last season (38.6 percent), he'll see the court -- maybe even in a starting role. But his focus is on the team.
"My goal is to start, but it's not the end of the world," Walker said. "You're part of a team. I think guys get carried away with what they want to do all the time, instead of buying into what the team needs you to do. I know we've got scorers; my job is knock down those open shots, play defense and help on the boards. That's what I plan on doing."
While seasoned veterans Mike Bibby and Jared Jeffries fill out the cast of main characters coming off the bench, Walker will be looked upon the most for instant offense (in other words, instant 3-point shooting). It's not a secret the Knicks see a lot of promise in Iman Shumpert, and he could be the "bench boss" come midseason. Not only is Shumpert a shooter, and as athletic like Walker -- maybe even more so -- Shumpert is quicker to the basket and a better distributor. That attack-and-dish mentality could mean more playing time for the rookie.
The difference between Walker and Shumpert's minutes could be determined by injuries, with a shortened season ahead.
You can follow Jared Zwerling on Twitter.