The Knicks have been in contact with free-agent forward James Posey, according to a source.
The Indiana Pacers waived Posey and his $6.9 million contract last week under the NBA's new amnesty clause. Posey cleared waivers and was not claimed by any teams under the cap.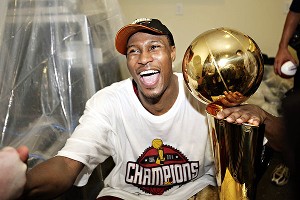 Glenn James/NBAE/Getty Images
James Posey has won a pair of rings, with Miami in 2006 and Boston in 2008.
The Knicks have the $2.5 million exception to offer free agents. They can also offer the $1.4 million veteran's minimum contract.
The Knicks are one of several teams after Posey; chief among them is the Boston Celtics. Posey played a key role for the Celtics in 2008, when they won the NBA title.
Posey would also fill a need for the Celtics, who lost forward Jeff Green for the season due to an aortic aneurysm that will require surgery. Green will be out for the season.
The Knicks are also after Baron Davis and, reportedly, Bostjan Nachbar.
Mike D'Antoni said on Friday that the Knicks would prefer to acquire a forward over a shooting guard, such as Michael Redd. So Posey may be a priority. The Knicks lost out of forward Shawne Williams. The 3-point specialist signed with the Nets last week..
Posey turns 35 next month and his 3-point shooting and defense took a step backward last season, when he shot just 31 percent from beyond the arc last season. But he would bring a veteran defensive presence and strong rebounding to the Knicks' second unit. And, if he can improve his outside shot, he'd likely get plenty of open looks under D'Antoni's system.