Continuing through Dec. 23, ESPNNewYork.com is running a series called "Christmas Countdown" examining a hot topic each day that involves "your New ... York ... Knicks!" as PA announcer Mike Walczewski says with slight pauses and strong punctuation.
Today's Hot Topic: Prediction
Before Wednesday's preseason game against the Nets, Walt Frazier was asked what kind of vibe he sensed from the new-look Knicks.
The Hall of Famer and MSG Network analyst said, "They're all talking championship."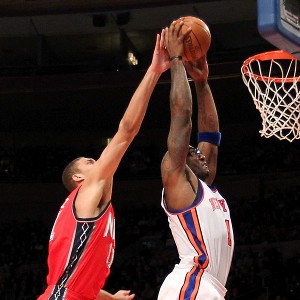 Anthony Gruppuso-US PRESSWIRE
Amare Stoudemire hopes to soar to new heights with the Knicks this season.
Since Amare Stoudemire arrived here last year, the Theseus of the team has attracted the right-hand men he needs to help lead him to victory over the beasts in the East, the Heat, Bulls and Celtics.
STAT knew the formation of an All-Star team was critical in order to compete, especially to defeat his "Big Three" friends down in Miami, where the strongest army in the league stands. Now he's got Carmelo Anthony, Tyson Chandler and Baron Davis side by side with him, and he's only three days away from starting the march forward he hopes will continue through the NBA Finals.
"It's definitely more intense this year. Our goals now are definitely higher," Stoudemire said. "Last year, it was to make the postseason. We accomplished that. This year, it's to ultimately win a championship. That's the quest that we're on, and we feel like this season is very important to us. We take every practice serious and try to translate that to the basketball court. This is a very, very exciting year for us, and it's going to be great."
But can he and his star-studded teammates make it to June?
Simply by having Anthony and Stoudemire on the court at the same time, with Chandler inside and shooters surrounding them, there is no question the Knicks can beat two-thirds of the teams in the league. They'll be even better once Baron Davis returns to full health. Whether he starts right away or comes off the bench, the team will benefit from the crafty veteran and his pick-and-roll playmaking. The Knicks don't have much experience at the point right now, with more of a combo guard running the show (Toney Douglas). The team could also use a go-to swingman scorer and defender off the bench, but they'll have to depend on a healing Bill Walker to step into that role.
The shortened season poses a challenge to every team, but count on the Knicks winning around 45 games. They'll have no problem scoring the basketball, but their ultimate success will depend on how assistant coach Mike Woodson helps them shore up their perimeter and interior defense. The Heat, Bulls and Celtics all feature an explosive guard/swingman (or two) who can cause significant damage.
The Knicks will have to dedicate film sessions just to figuring out how to stop Dwyane Wade, LeBron James, Derrick Rose and Rajon Rondo from breaking the outside plane. Because once any of those guys split the D, it's pretty much game-over, as they have similar All-Star supporting players who are deadly in the catch-and-shoot and catch-and-dunk game.
Fortunately, the addition of Chandler provides the Knicks with that weak-side help they were so desperately missing last season. It's the same threat that quickly crowded the airspace for LBJ and D-Wade when they drove to the basket during the 2011 Finals. Drafting on-the-ball specialist Iman Shumpert was key for the long haul, and the stocky rookie guard showed his potential value by make things difficult for All-Star Deron Williams during Saturday's preseason opener.
But Knicks fans know it will require a total team defensive effort to outmatch anyone in a seven-game series. And, of course, the Knicks can't afford serious injuries. Forty-five wins would be quite an accomplishment, but they do not want to see a repeat of last season's playoffs, when Stoudemire and Chauncey Billups both went down with injuries. If the Knicks can avoid that -- and play consistent defense -- they can be Eastern Conference finalists.
You can follow Jared Zwerling on Twitter.