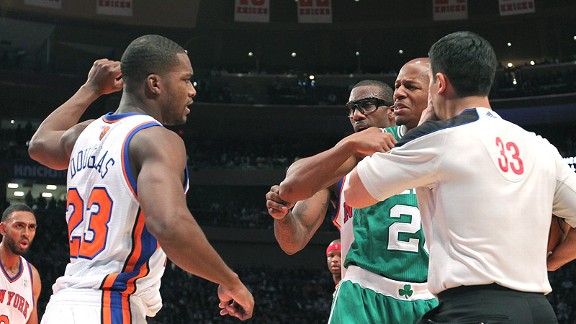 Anthony Gruppuso/US Presswire
Toney Douglas and Ray Allen got after it in the first half.New York Knicks coach Mike D'Antoni walked off the court convinced of one thing following his team's 106-104 win over the Boston Celtics.
"It's going to be a rivalry now," the coach said after the Knicks came from behind to beat the Celtics on Christmas Day. "I think we can get it up to the same level they are."
For years, that seemed like a laughable proposition.
Throughout the Isiah Thomas era and well into D'Antoni's time on the bench, Boston thoroughly dominated New York.
Even last season, with Amare Stoudemire and, later, Carmelo Anthony in the fold, the Knicks couldn't beat the Celtics.
Doc Rivers' crew beat New York in all eight matchups last season, including four in a row in the first round of the playoffs.
But all of that is ancient history now, according to D'Antoni.
"It's going to be [a] knock-down, drag-out [rivalry]. There's going to be some tempers. Hopefully they will control themselves," D'Antoni said. "We're not backing down, they're not backing down. It's going to be tough. It's going to be tough sledding. Every game is going to be a slug -- not a slug-fest. I hate to use those words."
But how could he not?
"Slug-fest" is probably the most accurate way to label Sunday's game.
There was Toney Douglas getting tangled up with Ray Allen in the first half, resulting in a double technical.
Later, Carmelo Anthony delivered a sharp elbow to Rajon Rondo's face in an attempt to clear the Celtics' point guard from his personal space.
Seconds after the buzzer, Boston's Kevin Garnett put his hands around ex-teammate Bill Walker's throat after Garnett missed a potential game-tying jumper.
"Every time we play a great team like Boston it is going to be competitive like that," Anthony said. "They want to win, we want to win."
Just call it a rivalry reborn.
During the preseason, more than one Knick stated publicly that they have one of the best teams in the Eastern Conference. D'Antoni took it one step further, claiming that, with Tyson Chanlder aboard, the Knicks had enough talent to compete for a title.
Inherent in that statement is the Knicks' belief that they can beat the Celtics. In seasons past, that would have been wishful thinking.
But, as the Knicks showed on Sunday, it isn't such a far-fetched proposition this season.
"Last year is in the past," Anthony said. "This is a new beginning for us. What better way to start it off than today?"
You can follow Ian Begley on Twitter.