WHAT IT MEANS: So this is what happens when Carmelo Anthony can't find his shot and Tyson Chandler can't control the paint.
With Anthony having an off night and Chandler off the floor for long stretches, the New York Knicks lost, 92-78, to Mark Jackson's Golden State Warriors.
They missed an opportunity to start the season 2-0 for the first time since 1999. And missed badly.
THE GOOD: Not much to report here. Landry Fields had a strong first half offensively but was silenced in the second half. He also had four turnovers.
Amare Stoudemire had 16 points and 10 rebounds but struggled from the field, hitting just five of his 14 attempts.
We're reaching here, but reserve Renaldo Balkman had a nice dunk in the first half.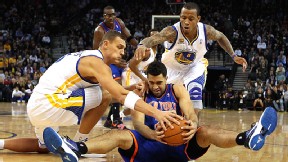 Ezra Shaw/Getty Images
Landry Fields' Knicks couldn't stay on their feet in a dreadful fourth quarter.THE NOT SO GOOD: Plenty.
The Knicks were tied with the Warriors, who were without the injured Stephen Curry, entering the fourth quarter. But Golden State outscored Mike D'Antoni's club 28-14 in the fourth to put the game away.
Anthony hit three of his 13 shots and finished 0-for-4 from beyond the arc. He scored 13 points.
After combining to score 58 points on 18-for-28 shooting in the opener, Stoudemire and Anthony hit just eight of 27 shots for 29 points on Wednesday.
MISSING THE POINT: The Knicks got a combined eight points, six assists and three turnovers from Toney Douglas and Mike Bibby. Douglas continued to look uncomfortable running the half-court offense and Bibby was playing his first game after sitting out the opener with a back injury.
TOUGH NIGHT FOR TYSON: Chandler sat for a large chunk of the third quarter and into the fourth with foul trouble. He finished with two points, three rebounds and one assist in 22 minutes. The Knicks were outrebounded by 16 and had just four offensive rebounds.
NOVAK DEBUT: Sharpshooter Steve Novak, signed a week ago, made his Knicks debut. The former Spur knocked down a 3-pointer with a little more than two minutes to play in the third to tie the game at 57-57.
Jerome Jordan notched his first NBA basket with a putback layup with four minutes to play.
WHAT'S NEXT: The Knicks take on the Los Angeles Lakers in the second game of a back-to-back. For the third time in three games, they will be facing a team at less than full strength. Los Angeles will be without Andrew Bynum, who is serving a four-game suspension.
You can follow Ian Begley on Twitter.