Kobe Bryant talked the talk, and then he walked the walk.
Behind Bryant's game-high 28 points, the Lakers cruised to a 99-82 victory over the Knicks on Thursday night, pushing their winning streak to nine straight over the Bockers.
Bryant entered the game averaging a whopping 34.1 points per game in his last eight appearances against the Knicks -- his highest against any opponent. Although Bryant acknowledged the Knicks' improved defense with Tyson Chandler before the game, he made it very clear why he has the success he does against the Knicks.
"It has a lot to do with Mike D'Antoni being over there," Bryant said. "We want to stick it to him every time we play against him."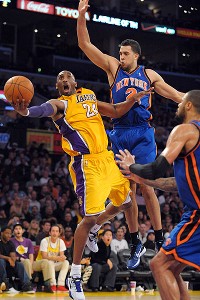 Kirby Lee/Image of Sport/US Presswire
Kobe Bryant showed the Knicks how it's done on Thursday.With a little grin in recognition of his words, Bryant paused and said:
"He's going to love that."
After watching his team get outplayed on both ends of the court, D'Antoni wasn't exactly feeling the love postgame.
"The Lakers are good, and we're awful," D'Antoni said. "We just didn't play well. We couldn't make shots."
The Knicks shot a season-low 31 percent from the field on the night, but D'Antoni wasn't quite ready to praise the Lakers' defensive performance.
"I don't care about [the Lakers]," D'Antoni said. "You know how much I care about them? Zero. I'm worried about the Knicks."
Both Bryant and the Knicks gave D'Antoni plenty to worry about Thursday night, but the proposed remedy for the Knicks' problems hasn't changed. For D'Antoni, it's not necessarily about stopping stars such as Bryant -- it's about outscoring them.
"We've got to score," D'Antoni said. "Our guys are fighting but we're not in very good rhythm right now."
The good news for D'Antoni and the Knicks? They'll have plenty of opportunities to get their rhythm before their shot at revenge against Bryant and the Lakers on Feb. 10 at Madison Square Garden.