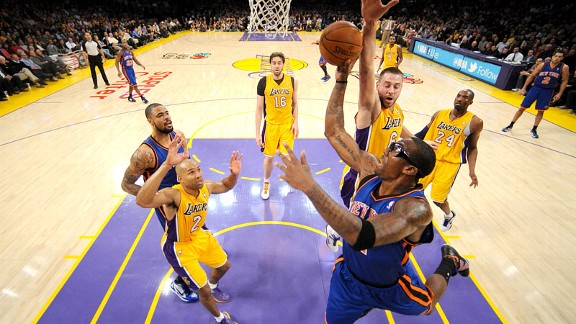 US Presswire
Amare Stoudemire shot a robust 4-for-17 on Thursday night.LOS ANGELES -- After starting the season hot by dropping 106 points on the Celtics, the Knicks have gone ice cold, scoring 78 points against the Warriors on Wednesday and 82 points on Thursday night against the Lakers.
Given all their offensive talent, the low point totals are a surprise to just about everyone, with the exception of one man: Knicks coach Mike D'Antoni.
"Before the game in Boston I thought our offense was bad," D'Antoni said. "Then it came through and I went, 'Oh, OK.' But it was bad. It was a little bit of fool's gold, because that was individual talent. We're not moving the ball and we're not playing real well as a team right now."
It's dangerous to put too much merit into such a small sample size. You'd like to think the Knicks will revert back to their high-scoring ways of last season and finish among the top five in the league in offensive efficiency again, but maybe that's not a given.
The Knicks' offensive woes have stemmed from a heavy dependency on Carmelo Anthony and Amare Stoudemire to hit deep jumpers -- shots the two players take (and typically make) at a high rate. However, when those shots aren't falling and no one is testing the interior defense with penetration, defenders can stay glued to Anthony, Stoudemire and the other Knicks shooters with little fear of being burned elsewhere. The difference between a clean look and a contested one in the NBA is a split second, and the Knicks are being reminded of that.
There's a lot missing offensively right now, but what the Knicks probably miss most are the stops and turnovers required to ignite their transition game. D'Antoni's offensive system thrives on scrambling defenses, but it needs someone in addition to Anthony to operate as the ball handler in the pick-and-roll to make that happen.
Spoken like a true shooter, Anthony said he thinks he has the remedy for the offensive issues.
"We have to start taking open shots," Anthony said. "If you're open, shoot it, regardless of who you are. That's the luxury of the system that we're in and how we play. It don't matter who it is."
You wouldn't think the players on the Knicks' roster would need extra encouragement to fire them up, but often times against the Lakers the Knicks were playing hot potato on the perimeter, holding the ball just long enough to let the defense recover before firing it off to someone else. There aren't many players better than Anthony and Stoudemire to bail you out of late shot-clock situations, but it might be too much to ask to have them do it on a consistent basis.
"It doesn't matter who it is [who shoots]," Anthony said. "It takes pressure off of myself and Amare to try not to do a lot more."
One player who stepped up against the Lakers was Tyson Chandler. Notably more assertive, Chandler went to the line a game-high 14 times and recorded four offensive rebounds after recording three rebounds in each of his previous two games.
"It's all going to come," Chandler said. "You know, with the way this season is we didn't get much time to really come together and get things set and get an understanding of where we are going to [get] our shots and this and that. All of that's going to start forming. We have too much offensive power not for it to start forming."
Although he acknowledged some of their issues, Anthony isn't going to hit the panic button quite yet.
"We're good, man," Anthony said. "It's not too much to worry about. It's three games into the season. We will get better."