"Clyde is the only player I've ever seen I would describe as an artist, who takes an artistic approach to the game." -- former Knick Bill Bradley.
After Clyde and I talked about the Knicks' upcoming season, our conversation turned to the evolution of the game from when he played in the 60s and 70s until now, and it started with the new technical foul rule. Here's Clyde's approach as MSG Network's color analyst.
I have to wonder when Timofey Mozgov's been T'd up, what he is saying to the ref? You're right there front and center to the action. Is he cursing in Russian?
We say he should protest because he's just saying, "What did I say" (laughs)? That [new technical foul] rule I don't like, man. I haven't met too many people who like that rule because you can't take away the emotion of players. I think hopefully they remedy that soon, but right now it seems like the players are the ones who have to make the adjustment.
I'm 100% with you, especially after what we saw in that Knicks-Celtics preseason game. It got out of hand.
Yeah, there's going to be a riot in a game (laughs). A team will have a game won and then all of a sudden, a guy gets a call like that and it changes the game. People are going to go berserk, man. They've got to do something. I mean, I think the complaining was out of control as well, so they have to find a happy medium there, where the players and the officials are happy and there's harmony with them. Right now, there's hostility between the two.
I agree sometimes there's too much complaining, but I think the rule sucks the emotion out of the game. You want to see some toughness and trash talking -- that's part of the culture of basketball, which starts on the playgrounds.
Yeah, they're going to make all the guys like Walt Frazier, with no emotion (laughs).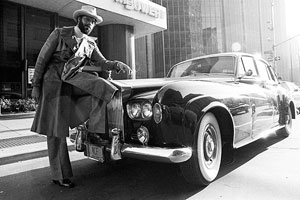 George Kalinsky
Clyde with his ride.
Speaking to the rule change, what are some of the biggest differences in the game today versus when you played in the 60s and 70s?
Well, the biggest thing is the hand checking, man. When we came into the league, guys could literally push you around the court, and there were no fouls. Once they took that out, that gave better continuity to the game because it had become pretty physical and stagnant. So now you see better movement. Also, taking away the zone defense because everyone wanted to see the NBA guys shaking and baking one-on-one -- all the moves that they displayed rather than the zone kind of taking that away at times. [While the NBA currently permits the use of zones, teams generally don't use them.]
Michael Jordan said recently that he could score 100 points in today's game because it's less physical and the rules have changed. Do you think he and other former greats would be able to score more?
Oh yeah. I think you'd have to add three or four points to their scoring. Oscar Robertson, Jerry West, Earl "The Pearl." It's interesting, when I talked to Dick Barnett, he said when he came in during the 50s, you could put two hands on the guy (laughs). You could literally mug them. When I came in, it was just the one hand and now there's no hands. That's a tremendous difference. The other thing is these players are much taller, faster and stronger. All these guys can dunk the ball and they can all jump out of the gym. It's just amazing. I played the game and I'm still amazed some nights to see what these guys can do on the court.
Is there one player today who really impresses you for his trickery on the court, as far as being able to get open and score off the dribble?
Yeah, I think some of the point guards -- Deron Williams and Chris Paul. These guys are very sagacious in their style of play. They have creativity. Steve Nash, the same thing. Amare got three or four dunks a game from Nash, just uncontested. Those guys, to me, are old-school players. Brandon Roy, they compare his game to my game, where he's got the midrange, he'll back you in. Andre Miller is a similar guy and he'll back you in. They have kind of an old-school game, which is very effective. Miller is not that quick, he's not that fast, but he's creative. You also have to mention Paul Pierce in that category, where he's not that quick, he's not an exceptional leaper, but he always gets to where he wants to go and he hurts you.
From the commentating side, are there any new catch phrases or nicknames you're looking to introduce this year?
Well, we've only played a few, but I've got to get some kind of nickname for Fields. Amare, well they call him STAT, so I've got to say, "STAT to the rack." I've got to get something jazzy to go along with that.
Knicks fans are a very vocal and passionate bunch. Ever pick up anything from them?
I like talking to the fans, man. That's always been my rapport -- even as a player. Sometimes I actually learn something about the game talking to the fans. They might ask me something and I'll go, "Wow, I never thought of it." When I first started, the fans kind of forced me to improve because I had been away from the game and I was saying "fastbreak" and they were saying "transition." And I was saying "passing" and they were saying "dishing." The average Knicks fan would be saying "continuity," "versatility," and I was like, "Wait a minute, man, that's the way I should sound." That's why I work diligently on my words and deliver and all of that, because that's how the fans were talking. I was like, "If I'm going to do this then I've got to try to really do it." We have the most knowledgeable crowd in the world's most famous arena.
Outside commentating, what do you enjoy doing? Are you a big golf fan?
I'm the only guy who I know who's not hooked on golf, man (laughs). All these other guys -- Starks, Herb, you name it -- they are all enthralled with golf. I still go to the gym. I like lifting weights. Every other day, I'm in the gym working on chest, back, arms and that type of thing. I'm still Clyde in order to look good in my suit. I've got to keep the weight off and watch my diet.
Do you still hoop today?
Nah, I rarely play, but come September, man, my palms always get itchy (laughs). I always want to go out and do shooting, so the urge is still there.
Would you ever want to participate in the Shooting Stars contest during All-Star Weekend as the legend on the Knicks team?
Yeah, I would probably think about that. That's fun.
Give me a great Knicks story.
Well, my story is about Willis Reed, the captain. He was the backbone of our team. He was the guy who kept everybody in line. My thing was, we personified team because you can't mention Frazier without Bradley without Reed without DeBusschere without Barnett. That's how we captivated this city. Black and white, working together unselfishly. Our mantra was "hit the open man" -- always looking for that open man, and defense. That was the catalyst that spurred us on to greatness and the championships. Those are my fond memories. When people think of that team, that's what they think about -- "Oh man, your defense, you guys were the smartest guys to play the game, your teamwork." That's how we'll be remembered, forever.
From when you played in the 60s and 70s to the teams in the 90s, I think the Knicks now have the right group of guys to set things in motion.
Yeah, the characters are there, too. These guys like each other, they work hard, so management is very happy with the team that they've assembled right now. Now they just have to handle that New York pressure, man (laughs). Big expectations.
For Part 1 of the Interview, where Clyde dishes on the Knicks, click here. Stay tuned for Part 3, where Clyde and I chat about the updated version of his 1974 book, "Rockin' Steady," and his flamboyant fashion wardrobe, which consists of much more than just colorful three-piece suits.
You can follow Jared Zwerling on Twitter.