In the spring of 1974, after Walt Frazier's basketball and style book, "Rockin' Steady," was published, it became an instant classic around town -- even among Gotham's glitterati. Frazier's co-writer, former New York Times columnist Ira Berkow, wrote in the book's preface: "After a game at Madison Square Garden one night, I gave a copy of the book to Woody Allen, a Knicks season-ticket holder who I did not know personally. The next morning I was surprised to receive a call in my office ... It was Woody Allen, who told me, 'My date and I read 'Rockin' Steady' aloud to each other in a Chinese restaurant last night" -- his date was Diane Keaton. 'We had a great time with the book.'"
More than 34 years later, Berkow was introduced to President Obama at a baseball game, who said to him, "You wrote the book with Clyde, with all the fashion and how to catch flies. I bought the book when I was 12 years old." Now, the book has a second life in print -- and it still includes Frazier's insights on the game, grooming secrets, and, yes, even instructions for snatching flies out of midair. What's new is his thoughts on the current generation of NBA trendsetters, such as LeBron James, Dwyane Wade and Baron Davis. From first soaping and brushing his sneakers at 11 years old to spending $10,000 out of his $25,000 NBA rookie salary on clothes, Mr. Frazier is still lookin' cool in his 22nd season as MSG Network's color analyst. Here is Part 3 of our interview, where Clyde, nicknamed after the character from the 1967 movie "Bonnie and Clyde" who wore wide-brim hats, dishes on the updated version of his book and his flamboyant fashion sense.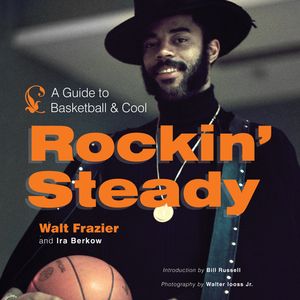 Walter Iooss Jr.
Frazier's updated book starts with a classic cover.
Tell me about the update of your book "Rockin' Steady."
It should be out in a couple of weeks, so I'll start doing promotions. I'm really excited because we did this book in 1974 originally. It became sort of a classic, like people are still going on Amazon.com trying to find it. It was unique. It's about basketball, but also my lifestyle, my philosophy on basketball, fashion, being cool, grooming, style tips. You'll be surprised that my philosophy then is pretty much the same as it is now because I still lift weights. In 1974, I first got into weight lifting and vitamins and my whole diet. That was sort of the genesis right there, and I've just transformed that into this metamorphosis that I'm doing today. Maybe I weigh 10 pounds more than when I played.
In the book, you talk about the league's current trendsetters. What have they brought to the game that you like, which serves as an example for other players to follow?
LeBron is God-given, man. He exceeded all expectations. I mean, we were talking how great he would be, but he went beyond that. He always says the right things. He takes time out to give back. He's an excellent role model. Wade, too. Once Jordan left, all of these young, talented players have come along, but they're also good citizens as well -- positive role models for our youth. They do a lot of things in the community.
In 2005, the league introduced a dress code that enforced business casual attire. Do you think that's been a good thing for the players as far as encouraging them to have a professional demeanor and, therefore, establishing more endorsement opportunities for them?
Yeah, I think you're professional, you should look professional. Man, these guys stay in four-star, five-star hotels, so you should look the part. I mean, they're all striving to be better people, but also they have to have a business acumen because we see still today a lot of guys leave the game with no money. You have to dress for success. A lot of these guys don't realize that the image they project now is the one that's going to follow them for the rest of their life.
Do you help the Knicks' rookies understand that during their transition process?
I don't really pursue them; they come to me and I give them advice. They have a lot of guys doing that; Starks I know, Houston, Herb, Mason, so we have a lot of former players. We're very concerned about their image because, like me, my image is the Knicks. Where do I go? I'm the Knicks (laughs). I represent the Knicks no matter where I go, whatever I do. 10 years from now, I'll still represent the Knicks. I'm Walt Frazier, New York Knicks (laughs). That's what they're going to say. I'm very cognizant of that and I carry myself in that way. That's why I dress appropriately, I try to do the right thing, and hopefully the ballplayers will see that as well. I remember I saw Michael Jordan. I came into the locker room and he goes, "Clyde, I wish I can get my players to dress like you, man" (laughs).
Spike Lee will be happy to hear you're doing the right thing.
Spike is the man. He talks to the guys. He wants to know everything. He was like, "Who's this guy Fields, man? This guy's looking good." He's a true fan, man. He doesn't hop on the bandwagon. Spike is there as a winner or loser. He's a very avid fan.
Who have been some of the Knicks' best dressers?
Stephon was good, Jerome James was a very good dresser. Duhon was one of the few guys who always wore a suit, man. Actually when we were with Isiah, we had a dress code. They had to wear suits. Now they're not doing that, so the guys are a little more casual. But the thing about basketball players, nothing looks better than a tall man in a suit (laughs). So they're like models, like Amare. They're tall and they're slender. They're actually like runway models, so anything they put on, they're going to look good in.
Do you still have the fedora hats and fur coats from when you used to play, and do you ever dust them off?
I still have two mink coats and one raccoon coat from the 70s. If you saw them, you'd think they were new coats. But they still look good. I still wear them. It's amazing.
They need a section at the Basketball Hall of Fame just for your wardrobe.
Yeah, we're thinking about doing something at the Garden on my style. Well, the book is synonymous with that, so now that the book is out, I'm sure we'll do more with the fashion thing over at the Garden.
Hugo Boss is now a Knicks' partner, and during the games they do sponsored fan segments, like who is the best dressed fan of the game?
Yeah, I heard that the other night. I almost stood up, but I didn't (laughs).
I hear you have a fabulous snakeskin boot collection. Do you have an actual python in your house?
Yeah, I've got all reptiles here, man (laughs). My most recent ones are eel skin, ostrich and stingray boots. They turned out real nice. I was lucky to find this guy downtown who makes them for me. It's a regular clothing store -- they have shoes in the window -- but you'd have to go through a special book to order the ones that I found. You don't see anyone wearing these shoes around.
It must take you a while to go through airport security with those types of boots.
Actually we don't have to. It would be a hassle with these boots, trying to pull them off (laughs). That would be rough.
When you travel, do you look for unique styles in those cities?
You know, I never shop in any other places. My philosophy was, if I can't find it in New York, you can't find it somewhere else (laughs). Ironically, my first hat -- the "Clyde hat" -- I found in Baltimore. When I was a rookie, I used to shop all the time in different cities. That's where I first bought that hat. But right now, I never go look outside of New York and right now, I have so many clothes, it's got to be something extraordinary for me to even want it. It's got to be something really different because I have so much stuff right now. In order to excite me, it's got to be really, really different.
When the team went to Paris in the preseason, you seemed to have enjoyed the shopping there.
Yeah, I really liked Paris -- similar to New York, smaller scale, plus we were downtown, sort of like Times Square. You can literally walk around to everywhere.
So who's closest is bigger: yours or Carrie Bradshaw from "Sex and the City"?
(laughs). Well, my closest is a room, you know (laughs). I have one room with clothing racks, like three or four clothes racks in it and all this stuff. It's ridiculous.
Give me an estimate of how many clothes and shoes you have.
Shoes, probably 70, 80 pairs, over 100 suits and shirts, all kinds of ties. But you know what's amazing, I buy everything that I have and I can remember [where they are in my closet], if I'm looking for something. I have amazed myself that I can remember sometimes all of the stuff. Like a lot of people with the clothes like me, they have pictures to remember what they have.
What drives your fashion sense today?
Colors. I like unusual colors, so sometimes I spend at least 30 minutes in my closet just trying to match up something different.
Thanks for your time, Clyde. I'll say hello at the next home game.
Do that, man. Let me know what you think of the outfit that I have on. Last night I was at a function and I wore sort of like zebra-stripe boots, black and white. So these people were wondering if it was me, and then a guy says, "It's got to be Clyde, man. Look at those shoes" (laughs).
Clyde comments on the Knicks in Part 1 of the interview and the evolution of the game in Part 2.
You can follow Jared Zwerling on Twitter.