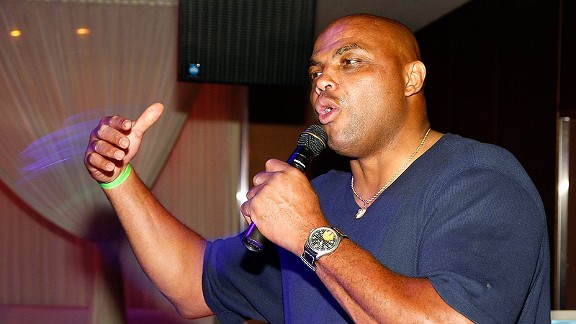 Ethan Miller/Getty Images
The Round Mound of Rebound had few kind words for the Knicks on Thursday.Mike D'Antoni believes the Knicks have enough talent to compete for a championship.
Hall of Famer Charles Barkley disagrees. Strongly.
Appearing on ESPN New York 1050's "The Mike Lupica Show," Barkley skewered the Knicks, making it clear he's unimpressed with their uneven start.
"They're not very good," he said. "Well, let's see: they don't play defense, they don't rebound the ball and they don't have a point guard. Other than that, everything's lovely with them."

Listen to the complete interview:

Lupica asked Barkley if the Knicks have a chance to compete in the Eastern Conference.
"Oh, not even close," Barkley said. "Let me tell you something: Miami and Chicago are so far ahead of every team in the East."
Barkley playfully suggests that the rest of Eastern Conference regular season should be canceled so the Heat and Bulls can play in the conference finals.
Barkley goes on to rip the Knicks' signing of point guard Baron Davis to a veteran minimum contract. Davis is sidelined with a back injury and may return late this month.
"I don't think Baron Davis can hold up enough to run Mike D'Antoni's system," Barkley told Lupica. ".... Baron's been a terrific player in his day, but it ain't his day anymore."
Barkley, who is an analyst for TNT, spoke highly of rookie Iman Shumpert but said the 21-year-old is not a natural point guard. Barkley doesn't think the Knicks have a player on the roster who can succeed in running D'Antoni's system.
"I don't think a point guard by committee can run his system," he said.
You can follow Ian Begley on Twitter.