Basketball legend Wataru "Wat" Misaka turned 88 last month, and he still wakes up every weekday at 5:30 a.m. to work as an electrical engineer in Utah, 35 miles outside of Ogden, where he was born.
"Clean living and green tea," he gives as the reasons for his longevity.
It turns out Misaka, who considers himself an "old, stick-in-the-mud country boy," has only spent about three of those 88 years outside of his native Utah. In the mid-1940s, he took two years off from playing at the University of Utah to serve in the U.S. Army.
The remaining time, Misaka was in New York as a member of the Knicks. But he wasn't just another name on the roster.
Misaka is Japanese-American, and when he was drafted in 1947 -- after helping lead the Utes to the 1944 NCAA and 1947 NIT championships -- he became not only the first Asian to enter the NBA (then called the Basketball Association of America), but the first non-white player in the league. He came before Earl Lloyd, Chuck Cooper and Sweetwater Clifton broke the color barrier for black players.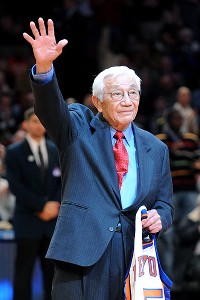 Kevin P. Coughlin/Icon SMI
Wataru Misaka was the first non-white player in the NBA.
The first year of the draft was 1947, and Misaka didn't even realize there was one before he heard he was going to New York, where he had played during the '44 and '47 NCAA tournaments.
"The first time I had ever heard about the draft was when my coach [Vadal Peterson] called me and said, 'You've been drafted by the Knicks and they'll be coming out here to talk to you about signing sometime later on in the summer,'" Misaka said. "So that was a big surprise. I hadn't even thought about anything like that."
In fact, the idea of playing pro basketball wasn't on Misaka's mind. He said many of the first-generation Asian immigrants were lower-class farmers and stressed to their children that education was the way to improve yourself. Not sports. Above all else, the most important thing was to get a college education.
Misaka's family didn't have the financial wherewithal to send him to school -- his father had died and they were struggling to make ends meet -- so he attended and hooped at nearby Weber State initially to cut costs before transferring to Utah.
"The education was primary," Misaka said. "Sports was a very long second place as far as people like me were concerned. I wasn't even thinking about going on for basketball or sports of any kind. It just happened there was a chance for me to do that, so I did it. But I still worked as an engineer part-time to pay for my tuition and going to school. Playing sports on top of that was a bonus."
Before Misaka traveled to New York as a pro baller, he met with Peterson and Ned Irish, the Knicks' founding father and the franchise's president from 1946 to 1974, at a hotel in Salt Lake City to sign the contract. There were no agents or legal representatives to assist with the matter back then. The deal was for $4,000 and it had a no-cut clause, which stated that he would get his full pay even if he got released during the season.
Misaka, who had an engineering degree, said the first-year salary was equivalent to the pay of an entry-level engineer at the time.
"It was pretty exciting," Misaka said. "I had been to New York twice, so I was quite familiar with The Belvedere hotel. That's where we stayed both times we were there. That was right next door to the Garden, so we used to go to have lunch at those little restaurants as a team. I kind of got to know the people around there, so I was kind of familiar with the big city."
While the 5-foot-7 Misaka played in only three games for the Knicks before being released in 1948, he said his time in New York was fulfilling. Even in the popular big-man, hook-shot game back then, headlined by George Mikan, he felt the support from the Garden crowd.
"I think the New York fans really enjoyed watching me play because I was a little guy," Misaka said. "New Yorkers like to root for the little guy, the underdog -- just seeing a little guy running around, making things a little harder for the big guys. I think they kind of enjoyed that. My style was kind of a novelty, unheralded I guess. I certainly enjoyed playing in front of the fans."
Misaka, who earned the nickname "Kilowatt" from a couple of local sports writers, also valued his short stay in New York off the court. He developed a friendship with teammate Carl Braun, who led the Knicks in scoring during his first seven seasons in the NBA.
"He was my roommate and he was a rookie at the same time," Misaka said. "We were up at pre-training time up at Bear Mountain. That's where the Knicks had their training camp. He was my roommate up there. He lived out in Long Island, so in the pre-league practices and exhibitions and before practices, he would come in from Long Island to practice. They were a couple weekends where we didn't have any practice scheduled and he invited me out to his place on the island and I spent a couple of days there. I met his folks and all. Those were the primary things I remember about New York -- my experiences with Carl."
Misaka has been back only once to the Garden since his playing days. That was on Dec. 21, 2009, when Misaka, who was the focus of a new documentary, "Transcending: The Wat Misaka Story," was honored during a timeout of a Knicks game. The team presented him with an honorary No. 15 jersey and then gave him a private tour of the arena, showing him a plaque of the 1947-48 team with his name on it. That was the same year President Obama invited him to the White House to honor him for being the first player of color in the NBA.
In recent years, the Knicks have gotten tickets for Misaka and his wife, Katie, when they come to Utah to face the Jazz. (Due to the shortened season, the Knicks are not traveling to Salt Lake City this year). Beyond that, Misaka still catches an NBA game here and there, but he won't have too much to offer as far as a player comparison.
"I was so short," he said. "All of the small guys nowadays are 6-2 or 6-3. They play a different game."
You also won't see him popping in any old game tapes.
"I haven't watched any of the games," he said. "On top of the play being kind of slower and erratic and not so smooth, like they are now, the filming technology has changed quite a bit. I don't get much fun in watching them."
Misaka is not sure when he'll return to the Garden, but he was glad to see the Knicks give Taiwanese-American guard Jeremy Lin a shot, even though he's played limited minutes.
The Misaka documentary helped shed light on Asian success in sports, and since then he was named to Weber State's and Utah's Sports Halls of Fame. He senses that people of similar ethnic backgrounds are making a greater effort to learn about and appreciate sports figures like Lin and himself.
"After [World War II], the Japanese communities were more interested in getting integrated into the American society," Misaka said. "I'm going back to the immigrants. I'm the second generation, and by the time the fourth generation has come along, they've seemed like they're picking up more interest in their own ethnic histories and so on, and getting more interested in people like me and their history."
While Misaka scored only seven points in three games for the Knicks, his ability as a small-town country kid to capture the attention of the big city is a story that will be told for years to come.
You can follow Jared Zwerling on Twitter.