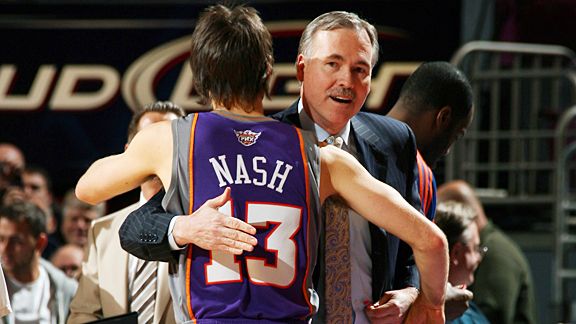 Nathaniel S. Butler/NBAE/Getty Images
"Nash is one of the best," Mike D'Antoni said of the point guard he'll try to defeat on Wednesday.Mike D'Antoni sounds like a man who misses Steve Nash.
The Knicks coach threw verbal bouquets at the Phoenix Suns on Tuesday, a day before they visit Madison Square Garden.
"They have a nice, free-flowing offense. They're very good. Nash is one of the best," D'Antoni said of his ex-point guard.
The Suns' offense, of course, is D'Antoni's. It's the same offense the Knicks are currently running. Or trying to run.
"Maybe we'll learn how to run it," the coach said, taking a not-so-veiled shot his own team.
D'Antoni laughed after saying it, trying to make light of a problem that's plagued his team for most of the season.
"We need to be one of the top 10 teams offensively and we're still not there," he said.
Entering play Tuesday, the Knicks weren't even close.
They ranked 22nd in offensive efficiency, which measures points scored per 100 possessions. They're scoring just 93.9 points per game -- or nearly 13 fewer than last season.
D'Antoni has cited several reasons for the Knicks' struggles: poor ball movement, poor shooting and the lack of a veteran point guard. New York has also been hampered by diminished production from Amare Stoudemire.
Simply put, it's been a take-your-pick of offensive ineptitude. And it's starting to affect some players' confidence, according to Carmelo Anthony.
"I think everybody's got to dig deep down inside their own self, and look themselves in the mirror, ask themselves, 'Are they playing the way they should be playing?,'" Carmelo Anthony said. "At this point in time, as a group, as a whole, we're a very confident team. But individually, we need everybody to boost that up a little bit."
The Knicks' shooting percentage could also use a boost.
They are hitting just 41.7 percent of their shots -- the fifth-worst mark in the NBA. Even worse, they're making 30.9 percent of their 3-point attempts.
"We haven't shot the ball well this year," D'Antoni said. "I thought our rhythm was better [against Orlando on Monday but] it didn't allow us to shoot better. We just have to keep getting better. It's been horrible. ... It'll smooth out, hopefully."
Shooting woes aren't the only thing slowing the Knicks' offense. They're sorely missing a veteran point guard.
New York (6-7) ranks 25th in assists per game; only 13 percent of its possessions end in an assist.
Until Baron Davis returns to the court, they will lean on 21-year-old Iman Shumpert to run the point.
"Being a rookie, it's going to take a while for him to understand how to do it for 35 minutes," said D'Antoni, adding that the Knicks' "flow is not good."
Entering the season, it was widely assumed that Stoudemire and Anthony would carry the team on offense -- at least until Davis returned. Anthony has taken on that burden at times, but he and Stoudemire are shooting a combined 42 percent through 13 games.
That number is more alarming for Stoudemire, a career 53.4 percent shooter, than Anthony (45.8 percent for his career).
On Tuesday, Stoudemire chalked up his shooting woes to the five-month lockout and a lack of cohesion on offense.
"We're still trying to figure out our offensive schemes," Stoudemire said.
Like D'Antoni, Stoudemire came to New York from the high-scoring Suns. Phoenix isn't as potent this season. Alvin Gentry's club ranks 11th in offensive efficiency.
But they have something the Knicks covet, a veteran point guard. And Stoudemire knows it.
"You've got a guy by the name of Steve Nash whose orchestrating the [Suns'] offense," Stoudemire said. "Things seem to run a little smooth when he's got control of the ball. But we'll get there."
You can follow Ian Begley on Twitter.