After four straight losses, the Knicks are out of excuses.
That's the message Amare Stoudemire delivered after New York flat-lined on Wednesday night against a Suns team that came into town on a five-game losing streak.
"We feel like it's very important for us to really get going now. It's still early. But we can't keep making that 'early' excuse," Stoudemire said. "We need to start pushing for it right now and really trying to get over the hump."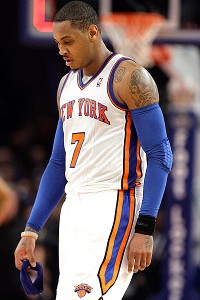 AP Photo/Frank Franklin II
Carmelo Anthony shot just 5-for-22 from the field.
They could start by getting it together on offense. The Knicks mustered just 88 points against a Phoenix team that had allowed more than 100 in its last four games, including 118 on Tuesday to the Chicago Bulls, who were without an injured Derrick Rose.
The Knicks shot a woeful 37 percent against the Suns and missed 11 of their 15 3-point attempts.
"It is killing us," Mike D'Antoni said of the team's inept offense. "The flow is not happening."
Carmelo Anthony and Stoudemire were two of the biggest reasons why on Wednesday. They finished the night a combined 12-for-44 as the Knicks, losers of four in a row, wiped away any goodwill from their recent four-game winning streak.
"I know that we are 6-8 and I know that we are in a little bit of a crisis here," D'Antoni said. "But the good things are [the team] is playing hard, they are rebounding."
That's fine. But they certainly aren't shooting.
Anthony has hit just 28.5 percent of his shots (14-for-49) over the last two games.
He has played with right ankle and left wrist injuries in both games. After missing 18 of 27 shots against Orlando, he said that his shot felt "flat" because he couldn't support the ball with his left wrist.
D'Antoni acknowledged that the wrist was still affecting Anthony on Wednesday. The coach said his All-Star forward wore a brace at times to protect his wrist.
"He is having a hard time gripping the ball," D'Antoni said of Anthony, who was unavailable for comment due to a family issue, according to the team.
Before the loss to Phoenix, D'Antoni was asked about expectations for the Knicks.
At what point is it fair for fans to expect them to win? At what point do excuses about limited practice time, poor offensive flow and the lack of a point guard become unacceptable?
"It's got to be now. Those are nice little catchphrases when we lose and we don't have nothing else to say," the coach said. "They're excuses and we know we can't do that, and we don't do it inside the room."
"We're in the midst of trying to become a better team," he added. "And when everybody gets back hopefully that will help. But we need to be better now."
You can follow Ian Begley on Twitter.