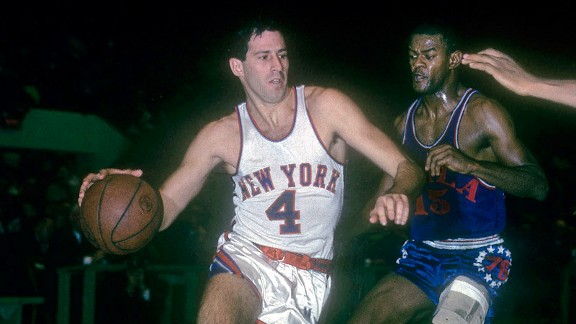 Focus on Sport/Getty Images
Art Heyman drives to the basket at the old Garden. Now those are some cool unis, no?
In 1963, New York native Art Heyman became the Knicks' first-ever No. 1 overall draft pick.
On Monday, he passed away in Florida. He was 71. The cause of death was not available.
Heyman grew up on Long Island (Oceanside), where he was a star high school basketball player at the same time as former Knicks coach Larry Brown, who's from Long Beach. In fact, they were both planning to attend North Carolina, but Heyman opted for Duke at the last moment. Many people on Tobacco Road believe it was Heyman's decision, as well as the two on-court brawls he gleefully participated in, that fueled the Duke-UNC rivalry.
During his time at Duke, Heyman was a three-time All-ACC selection who averaged 25.1 points and 10.9 rebounds. He led the Blue Devils to their first Final Four in 1963, and even though the Blue Devils lost to Loyola of Chicago, he was still named Most Outstanding Player.
"He was as good of an offensive player as I think the ACC has ever seen," Brown told The News & Observer. "He was a little nutty, but I think that's what made him good."
After the Knicks made Heyman the first Dukie ever drafted No. 1 in NBA history, he averaged 11.3 points in two years in New York. Overall, he played eight seasons in the NBA and ABA, including 19 games for the 1967-68 New Jersey Americans (who became the Nets).
In his later years, Heyman ran a watering hole in New York City's Gramercy neighborhood called Tracy J's, named after his stepdaughter.
Anybody remember seeing him play on the court, or holding court at the bar? Share your recollections in the comments.
You can follow Jared Zwerling on Twitter.