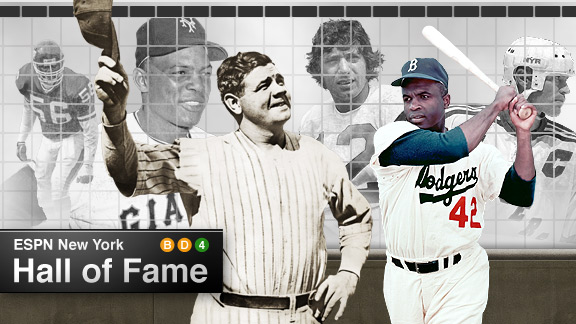 ESPN.com illustration
Vote: Pick the ESPN New York Hall of Fame class »
In honor of ESPN New York's inaugural Hall of Fame ballot, here are my top five Knicks: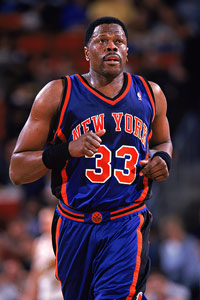 Otto Greule Jr./Allsport
Patrick Ewing appears on this list, but he isn't a finalist for the ESPN New York Hall of Fame in 2011.
• O'Connor: Where's Ewing?
• The Ewing debate

• Meet the finalists

1. Walt Frazier: If you meet Frazier he'll tell you, "Unequivocally, I'm the greatest Knick ever." And he's right. With the Hall of Famer running the point in New York, the Knicks won championships in 1970 and '73. Seven of his 10 years in New York resulted in All-Star Game appearances, including MVP honors in 1975.
2. Patrick Ewing: During his 15-year career in New York, Ewing did it all: He was an 11-time All-Star and 1992 Olympic gold medalist, and is the franchise leader in points, rebounds, blocks and steals. The greatest center in Knicks history also led the team to Game 7 of the 1994 NBA Finals.
3. Willis Reed: Reed defined the key Knicks attribute -- tenacity -- especially when he played in Game 7 of the 1970 Finals with a severe thigh injury. While he may have been overshadowed by the great centers of his era (Abdul-Jabbar, Russell and Chamberlain), he was a dominating force down low for the two-time champion Knicks.
4. Dave DeBusschere: DeBusschere is the greatest trade piece in Knicks history. With Frazier and Reed -- and later, Earl Monroe -- the Knicks had plenty of offense, but DeBusschere brought All-Defensive abilities to the 1970 and '73 title teams. During the roughly six seasons he spent in New York, he played in five straight All-Star Games.
5. Bernard King: In a tight squeeze for fifth place, King wins out over Monroe. Though Monroe was a champion, fans at Madison Square Garden have never seen a home-team scorer like King. He led the NBA in points per game in 1984-85 (32.9) and he was a two-time All-Star and All-NBA selection.