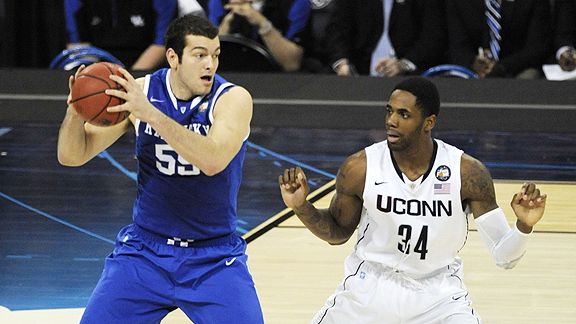 Richard Mackson/US Presswire
Josh Harrellson and Kentucky lost to UConn last year in a national semifinal.Almost exactly one year ago, Josh Harrellson was preparing for Kentucky's national semifinal game against Connecticut in Houston, which was his first and only Final Four appearance.
But that's nothing compared to what Harrellson would have experienced this year in New Orleans, as a heated intrastate rivalry game awaits Kentucky. On Saturday at 6:09 p.m. ET, his Wildcats, the NCAA tournament's No. 1 overall seed, take on fourth-seeded Louisville at the Mercedes-Benz Superdome.
Earlier this week in practice, Harrellson described his feelings toward the Cardinals.
"When I first got there [in 2008], I didn't even see it as a rivalry, Kentucky-Louisville, until like my senior year," he said. "You just build hatred for them each year you're there, and by my senior year I started disliking them more and more.
"You just want to go out there and just beat them as bad as you can, so I know those guys right now are trying to get that mindset right to go out there and compete. It's going to be a tough environment, tough game. I'm sure it's going to be a sold-out crowd, red and blue everywhere, and we're looking forward for a victory, hopefully."
The Wildcats are seeking their first NCAA championship since 1998. Last year, Harrellson's Wildcats fell just one-point short to the Huskies, 56-55, who went on to win the title, led by current Charlotte Bobcats point guard Kemba Walker.
You can follow Jared Zwerling on Twitter.