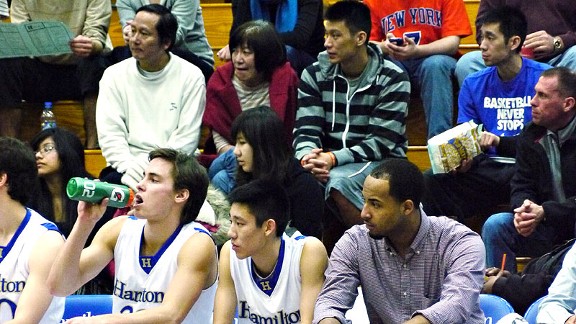 Sara Meissner
Jeremy Lin (in striped shirt) had his brother's back at Hamilton College on Sunday.
If you watched the postgame interview Saturday night after the Knicks beat the Timberwolves, you may have noticed that Jeremy Lin said he was excited to go see his brother play on Sunday.
As it happens, Joseph Lin is a freshman guard for Hamilton College in upstate New York, where I am a senior. And sure enough, the buzz started circulating around campus around noon Sunday, two hours before tipoff against Bates. I was working the Scott Field House concessions stand for the game -- 50 or so feet from the court -- and I could hear the chatter everywhere.
"Did you hear Jeremy Lin might be coming?"
"I wonder if he's flying a private plane."
"It's so nice of him to drive up with his family."
While the energy was exciting, most people were unaware that this wasn't Jeremy's first visit to Hamilton.
Back when Jeremy Lin didn't have a pun to his name, he and his family came to see Joe play in a Thanksgiving tournament. A few people recognized Jeremy, but he and his family mostly sat unbothered and unnoticed on the far end of the bleachers.
At halftime, Jeremy and Josh, the oldest brother, visited the concessions stand where I was working. Josh ordered Swedish Fish and a popcorn, while Jeremy bought a Nature Valley bar. Josh offered to pay, but Jeremy covered the $4 damage. The NBA lockout had just ended, so Jeremy must have been feeling financially secure.
It was a really cool moment, but I figured it would only be remembered by this really lame tweet (I confess to smudging the facts for the sake of a more clever hashtag).
Now, just two and a half months later, it's funny and a little sad how much things have changed for Jeremy. Don't get me wrong, he had a great time at the game. He watched Joe's warm-ups intently, he cheered Hamilton baskets and he looked happy to be with his family. He also laughed every time the peanut gallery sang "Incy Wincy Spider" during Bates' free throws.
It's probably unfair to compare Joseph's game to Jeremy's, but it's fun as long as you keep things in perspective.
Jeremy shoots right-handed. Joe's a southpaw. Jeremy rocks No. 17; Joe dons No. 3. And whereas Jeremy is deceptively big and strong, Joe is thin and a couple of inches shorter. In other words, Jeremy has the body of a professional athlete, his brother that of a college freshman.
In 15 minutes of action, Joe had four points, two assists, a block and a steal. As usual, he played a quality game off the bench, and Hamilton beat Bates 72-62 to improve to 15-9 on the year.
The most interesting moment came midway through the second half when Joe stole the ball at midcourt. He stormed to the hoop, fighting through contact and making an acrobatic layup -- much as his brother had been doing all week. His family shot up to cheer but Jeremy remained seated. Instead, he just grinned and nodded, as if saying, "Not bad, little bro, not bad."
But beyond the craziness of the moment, life was clearly different for the Lin family.
In order to avoid the mayhem, the Lins had to use a side entrance and had a campus police officer trail them the entire game. The Lins no longer sat in anonymity, either. The bigwigs of the college surrounded them, and whether they knew it or not, cell phone cameras captured their every move.
Of course, the worst part was that Jeremy Lin couldn't visit the concessions stand. Josh, who I had talked to during his first visit, had to make the trip alone. Wearing Golden State Warriors sweatpants, he ordered two red Gatorades, popcorn and an assortment of candy.
I can't say I know who ate the candy, but for me, at least, Jeremy's return was a little bittersweet.