NEW YORK -- When Michael Redd walked out of the Phoenix Suns locker room Wednesday night, he encountered teammate Shannon Brown.
"We're going to do that again," Redd said. "We're going to keep doing that."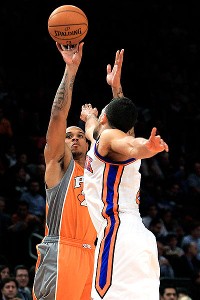 AP Photo/Frank Franklin II
Shannon Brown went downtown to hit the game's biggest shot.
Redd spent time working on one-on-one drills during warmups with Brown, who said the idea was simply to get him into the flow of actually playing before he checked into the game for the first time. Whether the extra work helped, who knows? But if Brown can hit shots like the 3-pointer he sank with 35 seconds left, it's worth a shot.
Former Knick Channing Fyre found Brown standing all alone in the corner after the Knicks lost him. Brown fired the shot, which, oddly enough, hit front rim and bounced near the top of the backboard before falling through. After officials reviewed the play to make sure the ball did not hit the top of the backboard, which would have been out of bounds, Phoenix led 85-80.
Brown, who finished with 14 points, smirked after the ball dropped in, knowing it wasn't exactly the conventional way to put a team away in the closing seconds.
"Why would I be embarrassed that it went in?" Brown asked in a postgame interview. "It was a soft shot. You don't want to put it up there and it goes bang off the rim. You want to put up a soft shot so it has a chance to go in."
The 3-pointer gave the Suns some breathing room before Knicks rookie Iman Shumpert hit his second fourth-quarter 3-pointer with 25 seconds left to put New York behind two. Steve Nash hit all of his six free throws in the last 16 seconds to hold off the Knicks' last-minute surge.
Neither team shot well from the field, but a timely bucket -- even one that doesn't look like it should go in -- can make all the difference.
"Seeing the ball go in the basket any kind of way always helps," Brown said.