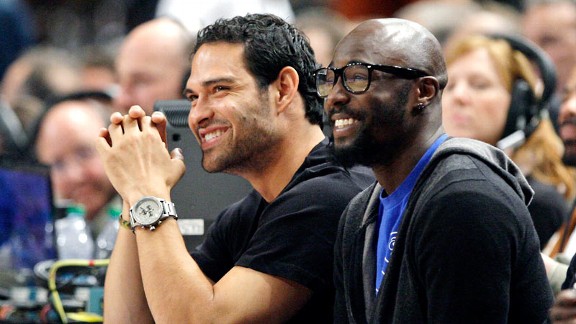 AP Photo/Frank Franklin II
Mark Sanchez and Santonio Holmes had premium seats at the Garden.If the crowd reaction at Madison Square Garden is any indication, Mark Sanchez and Santonio Holmes of the Jets aren't the most popular guys in New York right now.
Sanchez and Holmes were booed loudly at MSG on Wednesday night during the first quarter of the Knicks-Clippers game.
They sat next to one another in the front row and seemed to shrug off the boos, which came after both were shown on the Garden JumboTron.
Antonio Cromartie was also with Holmes and Sanchez but was introduced separately.
All three Jets politely declined comment at halftime.
It's interesting that Holmes and Sanchez were seated together because the quarterback and wideout didn't have the best relationship last season.
Holmes, a team captain, made publicly critical remarks about the offense early in the year. Then in the final game of the Jets' disappointing season, Holmes started jawing with teammates in the huddle and almost came to blows with tackle Wayne Hunter. Holmes was benched.
Holmes didn't want to talk about the incident during the Jets' offseason workouts.
Both Sanchez and Holmes also worked out together several times in the offseason.
It should be an interesting season for Sanchez because the Jets traded for Tim Tebow in the offseason. Sanchez praised Tebow as a "great addition" earlier this month.
Tebow was booed -- and cheered -- when he attended a game at Yankee Stadium on April 15.
You can follow Ian Begley on Twitter.