NEW YORK -- Dwight Howard didn't dominate the paint. He didn't set up camp at the free throw line. In fact, when you look at the stat sheet, the Knicks accomplished their goal of keeping Howard in check Monday.
But he sure did affect the game.
While New York focused on Howard, Orlando made 17 3-pointers, the most surrendered by a Knicks team since 2008. Strong efforts by Tyson Chandler and Jared Jeffries held Howard to just eight points and 10 rebounds. But Orlando forced the Knicks to pick their poison, and they died by the three.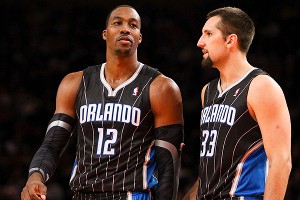 Debby Wong/US Presswire
The Knicks focused on Dwight Howard and left Ryan Anderson open. Anderson capitalized -- in a big way.
Howard's presence left room for former New Jersey Net Ryan Anderson to go off for a career-high 30 points with seven 3-pointers. J.J. Reddick hit three of his own from beyond the arc and tied a season high with 21 points. Hedo Tukgolu made four 3-point shots and scored 15.
"People forget that every single play, all the defense focuses on Dwight, regardless if he's scoring or not," Anderson said. "It's funny. Dwight doesn't always have to score a ridiculous amount of points for us to win, because it's just his presence there. He's getting double- and tripled-teamed at some points. He's doing a great job keeping composure, being patient and finding guys on the perimeter.
"We're moving the ball and that's why we got open shots tonight -- because of him."
It wasn't just that Orlando rained in a bunch of 3-pointers. It was also when. The Magic went ahead, 83-81, on a four-point play with 8:48 left when Anderson nailed a 3-pointer at the same time that Bill Walker was whistled for a foul underneath the basket on Glen Davis.
Minutes later, Turkgolu banked in a trey and Anderson followed with another -- both as a result of the Knicks sagging inside on Howard -- that gave Orlando a 90-85 advantage and the Magic never trailed again.
The Magic have now won four straight, even while rumors still swirl around Howard's future. Reports still maintain that he is most likely to end up with the future Brooklyn Nets. Howard and his team have showed no signs that the talk is a distraction.
"We don't even discuss anything that happens, trade talks or whatever," Howard said. "Our job is to continue to get better. So far we've been doing a good job of just coming in and getting our work in everyday and doing a good job on the court. … Our minds are on winning and that's the goal, winning a championship."
Up until the back-to-back 3-pointers by Turkgolu and Anderson, the Knicks played Orlando even. But then Turkgolu made another and Reddick followed with a jumper while the Knicks struggled to get pass the Magic's zone defense in the final minutes.
"We gave Dwight different looks, sometimes we doubled, sometimes we didn't," said Carmelo Anthony, who scored a game-high 33 points. "The guys that wasn't supposed to make threes, they didn't. Ryan Anderson, to make 7 out of 13 threes, that's a lot. He stepped up big for them. When you have guys like Ryan Anderson scoring 30 points, there's no way you're going to beat them."
You can follow Christopher Hunt on Twitter.