The morning after Team USA won the gold medal, Tyson Chandler and his family traveled to Tanzania for two days to go on a field visit on behalf of the U.S. Fund for UNICEF.
Here's Chandler's account of his trip, which he gave exclusively to ESPNNewYork.com:
When the Knicks' season was over, I sat down with UNICEF and talked about potentially coming to Africa. I told them that I wanted to come, following the Olympics, and we started planning things. We then planned for me to come to Tanzania.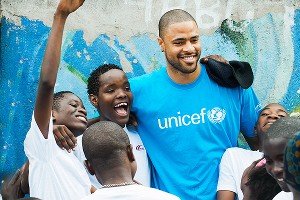 UNICEF/Paul Joynton-Hicks
Chandler served as a mentor for kids who are living on the streets in Tanzania.
This was my first time coming to Africa and I actually brought my family straight from London. They've been going into the different areas and places with me. I sent my children, Sacha-Marie, 6, Tyson Cleotis II, 3, and Sayge, 1, home, as I felt like they were too young and they really didn't understand what was going on. But my parents came, my in-laws and my wife, Kimberly. My buddy Ari Marcopoulos, a renowned New York City photographer, came out here as well.
First, I went to a home where I saw kids who are basically living on the streets. They were in this center that they visit on some days. They knew I was coming and performed a theater show for me, and their acting was absolutely amazing. They danced and sung. It was really heart-wrenching because when I was in the mix of kids talking to them, you kind of forgot that these kids go back to the streets. I was thinking that they were staying there overnight. These kids were having such a good time smiling, laughing, joking with me, and they were basically homeless.
Basketball is not a big sport in Tanzania. It's mostly football (soccer for us). But UNICEF is very big out here because they help a lot of the organizations that are trying to help the street kids. So on my first day, I helped organize a basketball clinic for them, and tried to teach the sport a little bit.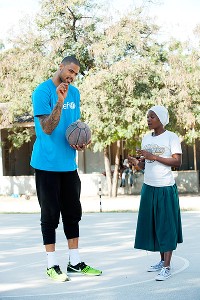 UNICEF/Paul Joynton-Hicks
Chandler teaches a Tanzanian girl how to shoot a basketball during his clinic in the country.
The next day, we went to a clinic where a lot of mothers are HIV positive. The clinic is trying to make other mothers aware of HIV and trying to get them more medication, so that they're not passing the virus on to their children. That was obviously an eye-opening experience in itself.
I was really there to see a lot of the help that UNICEF is providing, as far as medication and having places for these women to go. It was heart-wrenching, and when you saw these women stand up and have the courage to tell their stories, it's unbelievable. UNICEF also put together a women's group, where the organization went out and made other young women aware of the HIV virus and encouraged them to go out and get tested. I have all the respect in the world for these women because obviously it's not easy being able to stand up in front of a stranger and tell your story.
I had a couple of touching moments. One, when I was talking to three street kids individually and hearing their stories, one of the little kids was telling me that he left home simply because he had two other siblings, and they were very poor. He felt like if he left, it would be one less mouth to feed for his mother. He thought it was the best time for him to leave, so he essentially ran away. He caught a bus in storage for seven hours to get to Tanzania. He was from a city that was seven hours away. This kid is 14 years old. He's out here living on the streets with two of his friends.
Another little boy I met didn't know his age; he didn't know if he was 12 or 13. And that was another one of the issues that we were out here talking about. We helped kids register, because it's not common for children to be registered during birth here. So basically, the kids don't exist. He was telling me that he was in school and doing well, and then he had an altercation at home and was afraid of getting beaten by his father, so he ran away and came here. He was 12 hours away. He hitchhiked 12 hours to get to Tanzania, and he was saying that he just wanted to go back to school, but he can't afford to go to school. So you hear all of these stories.
In America, we take a lot of things for granted -- even the basic essentials like water and a toilet for proper hygiene, and school. These kids out here just want to go to school, but a lot of times they can't afford it. We take a lot of those opportunities for granted. I heard teachers speak, and they just want an opportunity to teach the children, but it's so tough because they don't have desks. These kids have to sit on the floor. They have one book for every 20-something kids, and you have 100 kids in the classroom.
Different stories like that are unbelievable. I don't think you can walk away from the situation without having your life changed.
The more that we can make people aware of what's going on out here, and the things that UNICEF is providing and helping with, is very important. And it's not just one area; it's multiple areas in Africa. It's helping the kids with education, it's helping them get a roof over their heads and taking them off the streets, helping women in different facilities so they can be more aware of diseases and get help. It's all over the board.
I know my teammate Amare Stoudemire is involved with Africa as well -- he's a goodwill ambassador to the country of Sierra Leone and currently developing a community center in the African nation of Mali -- so we definitely have to discuss how we can collaborate and help.
For more information on UNICEF's efforts, click here. Follow Tyson on Twitter @TysonChandler and check out his website TysonChandler.com.
You can follow Jared Zwerling on Twitter.