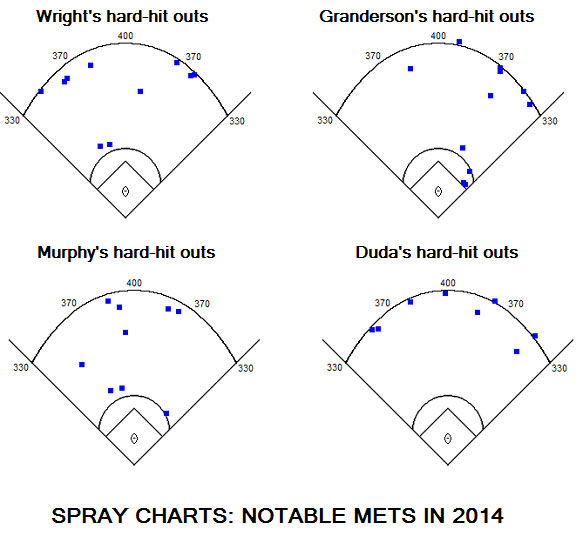 Some of the Mets best hitters have made a lot of long outs in 2014.Chris Young's long fly out to left-center in the second inning on Wednesday epitomized the struggles for the Mets offense, not just in this series, but for the 2014 season.
You could make the case that the Mets are not as bad as their offensive numbers look.
We utilize a service (one used by major league teams too) that rates every batted ball as either hard-hit, medium-hit or soft-hit, based on a visual check from watching video.
The average major league hitter hits around .700 when hitting a ball categorized as hard-hit.
The Mets as a team are hitting .592 on their hard-hit balls this season. As of Wednesday afternoon, only the Cleveland Indians (.586) ranked worse this season.
Mets Offensive Ranks
Through Wednesday Afternoon
The Mets had nine hits and 10 outs (.474) on their hard-hit balls against the Miami Marlins, going 4-for-9 in a brutal loss in the series opener and 2-for-6 in the 1-0 series finale. (The Marlins were 13-for-19.)
Marlins Park hurt the Mets when it came to the fly balls by Young, Lucas Duda and Daniel Murphy to cavernous right-center field. All were outs in Miami, but could have been hits (or even home runs) elsewhere.
When hitting coach Dave Hudgens talks about things like trusting the process, he could be talking about any number of Mets hitters.
Six Mets have at least 10 hard-hit balls this season. Only Juan Lagares has a batting average on them above that league-average .700 mark.
Duda is at .619. David Wright is at .609. Murphy and Young are now each at .600. Curtis Granderson is at .500.
In each case, the track record is such that you would expect things to get better. Duda hit .678 on hard-hit balls combining 2012 and 2013.
Wright's batting averages on hard-hit balls in 2012 and 2013 were .683 and .763.
Murphy has gone .711, .650 and .681 the last three seasons. Granderson and Young have histories in the .650 to .700 range.
The samples are still rather small to this point, so a change from going bad to going good can be a matter of a couple of balls finding gaps or falling into open spots (or playing in a few smaller ballparks than this one).
But a little difference can make a big difference. Think of how much the series opener and finale would have been different if one or two fly balls had carried just a few more feet.
Or think of it this way: The difference between looking like a 90-win team and a 90-loss team could just be a matter of the Mets getting a few more hard-hit balls. Among other things, of course.