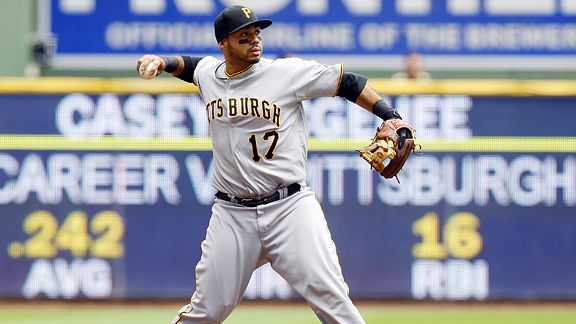 Jeff Hanisch/US Presswire
Pirates rookie third baseman Pedro Alvarez hails from Manhattan.
METS (70-73, fourth place/NL East) vs. PITTSBURGH PIRATES (48-94, sixth place/NL Central)
Monday: RHP Dillon Gee (1-0, 1.29) vs. RHP James McDonald (3-5, 4.81), 7:10 p.m. ET
Tuesday: RHP R.A. Dickey (10-6, 2.91) vs. LHP Zach Duke (7-13, 5.47), 7:10 p.m ET
Wednesday: RHP Jenrry Mejia (0-4, 4.91) vs. LHP Paul Maholm (7-14, 5.37), 7:10 p.m. ET
Thursday: RHP Mike Pelfrey (14-9, 3.89) vs. RHP Charlie Morton (1-11, 9.05), 7:10 p.m.
Pirates short hops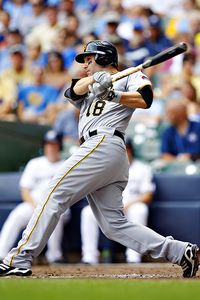 Jeff Hanisch/US Presswire
Second baseman Neil Walker has an 18-game hitting streak, the longest by a Pirates rookie since 1971.
Second baseman Neil Walker, a Pittsburgh native, has an 18-game hitting streak -- the longest by a Pirates rookie since Rennie Stennett had a streak of the same length in 1971. Walker is hitting .309 with 10 homers and 53 RBIs in 90 games since his May 25 season debut. … Pirates rookie third baseman Pedro Alvarez hails from Washington Heights and is a product of the Bronx's Horace Mann School as well as Vanderbilt University. He was the second overall pick in the 2008 draft. Ten of Alvarez's 11 homers have come at PNC Park. The 11 homers since his June 16 promotion rank third among major league rookies during that span, trailing only Florida Marlins outfielder Mike Stanton and the Chicago Cubs outfielder Tyler Colvin. … Left fielder Jose Tabata and Walker are the first Pirates rookies to have 100 hits apiece in the same season since Jose Guillen and Tony Womack in 1997. Tabata, who was acquired by Pittsburgh in the July 2008 trade that sent Xavier Nady and Damaso Marte to the Bronx, has nine hits in his past 17 at-bats. … Zach Duke's .320 opponent batting average is the highest in the majors among pitchers with 25 starts. Teammate Paul Maholm's .306 opponent batting average is second-highest. Eight of the 11 Atlanta Braves batters to face Duke in his last start reached base. He was pulled without recording an out in the second inning. Duke is making $4.3 million and is arbitration-eligible for a final time this offseason, leading to speculation the Pirates could nontender the southpaw and cut him loose. … Chan Ho Park picked up the win in relief Sunday at Cincinnati with a scoreless eighth inning. That gave Park 123 career victories, matching Hideo Nomo for the most by an Asian-born pitcher in major league history. Park has allowed only one earned run in his past 12 appearances. … James McDonald tossed seven scoreless innings and beat Atlanta's Tim Hudson in his last start. He is 3-4 with a 4.17 ERA in seven starts since being acquired from the Los Angeles Dodgers. … Infielder Aki Iwamura (.182) was released Friday. … Right-hander Charlie Morton has the highest ERA of any pitcher with at least 13 starts in a season since Toronto's Roy Halladay (10.64) and Minnesota's Sean Bergman (9.66) in 2000. Bergman never pitched again in the majors. Halladay has gone on to finish in the top five in American League Cy Young balloting five times. Morton is a product of Joel Barlow High School in Redding, Conn. … Pedro Ciriaco delivered an RBI double last Wednesday in his first major league at-bat. He came from the Arizona Diamondbacks with catcher Chris Snyder on July 31 for Bobby Crosby, Ryan Church and D.J. Carrasco. Alex Presley also had his first hit in that game. … Right-handed reliever Chris Resop was claimed off waivers from the Braves on Aug. 4. … Outfielder John Bowker, who was acquired from the San Francisco Giants with right-hander Joe Martinez for left-hander Javier Lopez on July 31, snapped an 0-for-11 skid with a pinch-hit double Saturday. Bowker was promoted from Triple-A Indianapolis when rosters expanded. … Third baseman Andy LaRoche, who has been supplanted at the position by Alvarez, has one hit in his last 21 at-bats. … Joel Hanrahan is 5-for-9 in save conversions. … Ex-Met Lastings Milledge manned left field Sunday. It was only his second start this month.
Matchups
Gee vs. Pirates (career: never faced)
Dickey vs. Pirates (career: 0-0, 5.87 ERA)
Andrew McCutchen 1.000, 1 AB
Delwyn Young 1.000, 1 AB
Lastings Milledge .500, 2 AB
Chris Snyder .000, 2 AB
Ronny Cedeno .000, 1 AB
Jason Jaramillo .000, 1 AB
Andy LaRoche .000, 1 AB
Brandon Moss .000, 1 AB
Mejia vs. Pirates (career: never faced)
Pelfrey vs. Pirates (career: 2-1, 4.34 ERA)
Jason Jaramillo .667, 4 RBIs, 3 AB
Andrew McCutchen .600, 1 RBI, 5 AB
Andy LaRoche .400, 2 RBIs, 5 AB
Brandon Moss .400, 1 RBI, 5 AB
Chris Snyder .375, 8 AB
John Bowker .333, 3 AB
Ronny Cedeno .333, 3 AB
Lastings Milledge .300, 10 AB
Neil Walker .250, 4 AB
Ryan Doumit .143, 1 HR, 1 RBI, 7 AB
Pedro Alvarez .000, 4 AB
Jose Tabata .000, 3 AB
Delwyn Young .000, 1 AB
McDonald vs. Mets (career: 0-1, 8.64 ERA)
Ike Davis .667, 3 AB
Angel Pagan .667, 3 AB
David Wright .333, 1 HR, 4 RBIs, 3 AB
Jose Reyes .333, 3 AB
Josh Thole .333, 3 AB
Ruben Tejada .000, 1 RBI, 2 AB
Carlos Beltran .000, 3 AB
Chris Carter .000, 2 AB
Nick Evans .000, 1 AB
Duke vs. Mets (career: 4-1, 2.91 ERA)
Luis Castillo .500, 1 RBI, 4 AB
Jose Reyes .333, 1 HR, 2 RBIs, 21 AB
Ike Davis .333, 3 AB
David Wright .300, 1 HR, 5 RBIs, 20 AB
Angel Pagan .286, 1 RBI, 7 AB
Nick Evans .143, 7 AB
Carlos Beltran .118, 2 RBIs, 17 AB
Henry Blanco .091, 1 RBI, 11 AB
Ruben Tejada .000, 3 AB
Maholm vs. Mets (career: 3-2, 4.57 ERA)
Nick Evans .667, 1 RBI, 6 AB
Luis Castillo .500, 1 RBI, 6 AB
Jose Reyes .438, 3 RBIs, 16 AB
Carlos Beltran .364, 1 HR, 3 RBIs, 11 AB
Angel Pagan .333, 1 HR, 1 RBI, 9 AB
David Wright .250, 2 RBIs, 20 AB
Henry Blanco .231, 1 RBI, 13 AB
Luis Hernandez .000, 2 AB
Morton vs. Mets (career: 0-0, 0.00 ERA)
Jose Reyes .000, 1 AB
David Wright .000, 1 AB
Last series results:
Mets won 2-1 at PNC Park, Aug. 20-22 (AP game recaps)
Mets 7, Pirates 2: David Wright and Jose Reyes each had three of the Mets' slump-ending 15 hits, Mike Pelfrey pitched eight innings and New York assured the Pittsburgh Pirates of their record-extending 18th consecutive losing season. Chris Carter homered and drove in two runs a night after the Mets were limited to three hits during a 3-2 loss in Houston, which had prompted Mets manager Jerry Manuel to call his offense "pathetic." Think how Manuel would feel if he managed the Pirates, whose 82nd loss guaranteed them of extending the longest streak of consecutive losing seasons in major American pro sports history. They'd never done it this soon, either; previously, the earliest they had secured a losing season was on Aug. 27, 2001. The Pirates, who fell behind 3-0 in the first and 5-1 in the third, are on pace to lose 109 games, only three off their modern-era record of 112 during a 154-game season in 1952. They've dropped 11 of 12, scoring more than two runs only twice in any of those defeats. Pelfrey (12-7) gave up Ryan Doumit's solo homer in the second and Andrew McCutchen's RBI single an inning later, but otherwise had few problems with an offense that's performing even worse than that of the Mets. Going into the game, New York had been held to three runs or fewer in 14 of 17 games. Pelfrey struck out five, walked two and gave up six hits and one earned run in his longest outing since pitching nine innings against San Diego on June 8. Jeff Karstens (2-10) couldn't make it out of the fourth while becoming the fourth Pirates starter to reach double-digit losses, joining Zach Duke (5-12), Paul Maholm (7-12) and Ross Ohlendorf (1-10). Karstens gave up seven runs and 11 hits in 3 1/3 innings. The right-hander got off to a bad start by giving up five singles within a span of seven batters to start the game as the Mets took a 3-0 lead. Carter, Ike Davis and Josh Thole drove in runs. Carter led off the third with his third homer, and first since June 13 at Baltimore, and Thole later added his second run-scoring single. The Mets pushed it to 7-2 in the fourth. Reyes doubled and Angel Pagan and Carlos Beltran singled, with Pagan scoring when left fielder Jose Tabata threw wildly trying to get him at third. Pittsburgh has lost 24 of 34 since the All-Star break. The Pirates have never been more than seven games above .500 during any point of their 18 losing-season streak. During that span, the NFL's Pittsburgh Steelers -- who play only 1/10th as many games per season -- have done that four times. The Pirates have lost 60 of 82, the most losses they've had in a comparable span since 1953.
Mets 5, Pirates 1 (six innings): David Wright hit a three-run homer and Jon Niese pitched a five-hitter as the New York Mets beat the Pittsburgh Pirates in a game called in the top of the sixth inning because of rain. Wright's home run off James McDonald (2-3) in fifth inning landed in the Mets' bullpen in center field and pushed the lead to 5-1. It came after Angel Pagan led off the inning with a double and Carlos Beltran walked. The umpires called for the tarp after Jose Reyes led off the sixth with a hit and was called after a 66-minute delay. Niese (8-5) allowed one run to win for the first time in five starts. He struck out five and walked one. The left-hander had allowed one run in seven innings in each of his previous three outings. The win assured New York of its first road series victory against a National League team this season, though it did sweep Baltimore and Cleveland on the road in interleague play. The Mets also moved back over .500 (62-61) with their third victory in four games. The Pirates lost their fifth in a row and 12th in 13 games. New York broke a 1-1 tie in the fourth when Ike Davis led off with a double off the top of the center-field fence, took third on a wild pitch and scored on Ruben Tejada's one-out sacrifice fly. The Mets struck early as Reyes doubled to lead off the game, then dashed home from third base when catcher Chris Snyder was forced to throw to first base following a strikeout of Chris Carter. Reyes scored just ahead of first baseman Garrett Jones' return throw home; Snyder vehemently argued. Pittsburgh tied it in the third when Andrew McCutchen hit the second of his two doubles to lead off. He scored on a single by Neil Walker. Reyes and Pagan each had two hits for the Mets. McDonald was tagged for five runs and six hits in five innings after winning his previous two home starts since being acquired from the Los Angeles Dodgers in a July 31 trade. He also walked five and struck out four. Chris Carter started his third consecutive game for the New York, playing right field. He went 0-for-2 with a walk as the cleanup hitter. Pittsburgh rookie third baseman Pedro Alvarez is hitless in his last 14 at-bats, striking out eight times, after going 0-for-2. The Pirates wore replica uniforms of the Pittsburgh Crawfords as a tribute to the Negro Leagues and the Mets wore New York Cubans' replicas.
Pirates 2, Mets 1: A slumping Zach Duke limited the Mets to one run over seven innings and Jose Tabata and Lastings Milledge homered, allowing the Pittsburgh Pirates to salvage the final game of the three-game series. Duke, a loser of eight of his previous 11 starts, struck out five and walked two to win for only the third time in 13 starts since May 18. The Mets scored on Carlos Beltran's sacrifice fly in the first after leadoff batter Jose Reyes singled, moved to second on catcher Ryan Doumit's throwing error and stole third. But they had only three singles off the left-hander over the next six innings. Duke (6-12) is 4-1 against the Mets in seven career starts. The Pirates, trying to dodge their first 100-loss season since 2001, had lost five in a row and 12 of 13 to fall 43 games below .500 at 40-83. The Mets were denied their first road sweep of an NL opponent this season. Mets starter Johan Santana (10-8) didn't allow a hit until Pedro Alvarez's leadoff single in the fifth, but, after a double play, Milledge homered to center -- his fourth of the season. Milledge started for only the second time in seven games despite having a .303 average in his last 47 games. Tabata, one of three rookies in the Pirates lineup, hit the third homer of his career with two outs in the sixth to make it 2-1. Santana went the distance for New York, giving up only two other hits over eight innings while striking out nine and walking one. The Pirates won despite being held to two runs or fewer for the ninth time in 10 games. Evan Meek pitched a scoreless eighth inning before Joel Hanrahan pitched the ninth for his second save in five chances. After scoring 12 runs in 14 innings in the first two games of the series, the Mets went back into the slump that saw them score three runs or fewer in 10 of 12 games. Duke had lost eight of his last 11 starts, winning twice with one no-decision. Santana gave up two runs after surrendering one or fewer in seven of 10 starts.