Right-hander Dillon Gee did not believe he pitched well Monday. He nonetheless contributed six scoreless innings before being pulled with his pitch count at 106 in what became a 1-0 win against the Pittsburgh Pirates.
Through two major league starts, Gee -- albeit against the Washington Nationals and Pirates -- has allowed one run and seven hits in 13 innings with seven strikeouts and seven walks.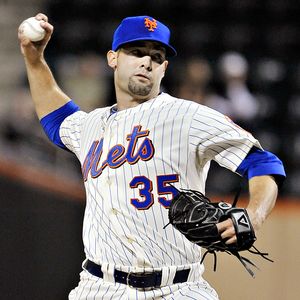 AP Photo/Kathy Kmonicek
Dillon Gee limited Pittsburgh to five hits and four walks while striking out three in six scoreless innings Monday.
"From when I started warming up for the game, I could tell I wasn't feeling that great. I wasn't on," Gee said. "Something was a little off. Maybe because of that I was kind of second-guessing a little bit and not being aggressive and maybe pitching a little -- I don't want to say scared -- but just not pitching to contact. I think a lot of that stems from mentally I feel like I'm not right, so I kind of start nibbling."
Even if Johan Santana is ready to go on Opening Day next year, Gee could factor into the rotation plans. Factoring in Mike Pelfrey, Jon Niese and R.A. Dickey as locks, Gee conceivably would need to beat out Jenrry Mejia, Pat Misch, Hisanori Takahashi (if he re-signs) and whatever veteran free agents the Mets might bring in to compete for a fifth starter's role.
Asked if Gee's showing so far ought to be taken with a grain of salt because it's coming in September against subpar teams, Jerry Manuel replied: "When you throw shutout innings, it has to translate into something positive. It would be difficult if the club left next year and he continues to do what he's done that he wouldn't be one of the guys in the rotation. It would be very, very, very difficult."
Gee escaped plenty of trouble Monday, including twice stranding runners at third base by retiring Washington Heights product Pedro Alvarez to end innings.
"He didn't really lose his composure or anything like that," Manuel said. "… He was probably a little more erratic tonight than he was the first time, and that caused his pitch count to elevate. He's still a pitcher. He still pitches. He can throw some offspeed pitches for balls and then come back and throw them again. And then, when a guy appears to be on his offspeed, he takes a little off of it, which is tremendous instinct. He has a chance to be a real decent pitcher at this level."
Gee was limited to 48 1/3 innings last season because of a labrum tear in his right shoulder that was rehabbed rather than surgically repaired, but he insisted he's not hitting any wall this season.
"I run out of gas a little quicker now, this late in the season," Gee said. "But every time I go out there, I feel pretty good."
So far, he's contributed at the plate, too. Gee had an RBI single against the Nationals in his major league debut while holding Washington hitless through five innings. This time, Gee had a leadoff double in the third inning against Pirates right-hander James McDonald. Gee had been 0-for-22 this season with Triple-A Buffalo. He became the eighth pitcher in franchise history to have a hit in each of his first two games with the club, and the second Mets pitcher to accomplish it in his first two major league games, joining Walt Terrell in 1982.
"I don't know what that deal is," Gee said. "Maybe I'm just concentrating more up here. I don't know. I'm just getting lucky."