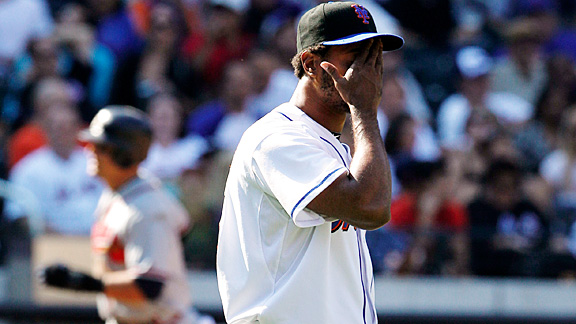 Kathy Willens/AP
The performance of pitchers like Manny Acosta with the bases loaded, and that of the Mets hitters, has been very hard to watch in 2010.
This bases-loaded thing has really been a major nuisance.
The Mets have given up a major-league high and club-record 12 grand slams this year. They've hit none. The Elias Sports Bureau tells us that no team in baseball history has finished a season with a 12+/0 disparity.
In fact, dating back to last season, the Mets have allowed 16 grand slams since hitting their last one (August 1, 2009, Angel Pagan).
No Met is immune. Bases-loaded struggles were the major blemish on Johan Santana's stellar season. Opponents hit .583 with three grand slams against him, bringing back memories of Armando Benitez (.667 BA, 3 grand slams) circa 2000. It's odd too, since opponents were 2-for-19 against Santana with the bases loaded in 2008 and 2009.
Mets With Bases Loaded
2010 Season
These are depressing stats and it merits looking at the Mets bases-loaded performance a little more closely.
We can pinpoint a simple reason as to the issue Mets pitchers have had with the bases loaded this season -- pitch location.
Sifting through the data from our Inside Edge video scouting service, there are a couple of items of note:
1- The Mets give up a lot of bases-loaded foul balls. Opponents are fouling away 46 percent of their swings with the bases loaded, a rate significantly higher than the major league average of 37 percent. Mets pitchers are getting foul balls instead of swings-and-misses, and they're paying the price.
2- The two locations in which a major league hitter is likely to crush a pitch are middle-middle, and middle-up. For lack of a better term, let's call this their "happy zone," an area in which the average major leaguer is hitting .383 with the bases loaded.
Mets pitchers have thrown 93 bases-loaded pitches (be they fastballs, breaking balls or others) into the "happy zone" in 2010. They throw pitches into the "happy zone" more frequently than they should-- about 20 pitches more than the average team would be expected to throw based on rate stats.
Not surprisingly, they've paid the price. Opponents are 16-for-32 with six grand slams against Mets pitches thrown to the "happy zone," including the fastball Manny Acosta grooved that Derrek Lee crushed for a game--winning grand slam on Sunday.
The Mets haven't had a bases-loaded hit of that magnitude in quite some time.
The offensive issues the Mets have had with the bases-loaded are not isolated to 2010. It's actually part of what is now a three-year problem.
Since 2008, the Mets slashline (BA, OBP, Slug Pct) with the bases loaded is .218/.254/.338, the worst in baseball in all three areas. And those numbers are not skewed by one season.
The best rank the Mets have in any of those bases-loaded stats in the last three seasons is that they were 25th in bases-loaded slugging in 2008. Every other number is comparatively worse.
What's particularly troubling is how bad two of the Mets stars have performed in such situations.
David Wright
Career with Bases Loaded
David Wright was a bases-loaded hitting machine from 2004 to 2007, among the very best such hitters in the game. In 50 plate appearances (admittedly, a limited sampling), Wright had 18 hits, six walks and five sacrifice flies. He wasn't quite a guarantee to do something positive, but he was as close as they come.
From 2008 to 2010, Wright has also had 50 bases-loaded plate appearances, but the results aren't anywhere near as good-- 10 hits, four walks, and two sacrifice flies.
The Inside Edge stats show he's more prone to chase pitches out of the strike zone, and more likely to miss those he does swing at with the bases loaded-- two trends that go hand-in-hand with his overall batting habits. There are no guarantees with Wright any more when it comes to bases-loaded aptitude.
Jose Reyes experienced some fluctuations typical of what you'd expect from a small sample of bases-loaded turns in his first five seasons, the result being a .280 batting average. But in the last three years, Reyes is 7-for-38 with the bases loaded (.184 BA).
This season, the issue for Reyes has been one of weak swings. In his 13 plate appearances with the bases loaded, he's chased 42 percent of pitches out of the zone (the typical hitter chases about 26 percent), yet he's only missed once on 26 swings. The deduction here is that he's hitting pitches out of the strike zone, and it's tough to hit those well.
Inside Edge tracks its own stat called "Well-Hit Average," an (admittedly subjective) decision by its scorekeepers on whether a ball is indeed well-hit. Reyes has one well-hit ball with the bases-loaded this season, giving him a Well-Hit average of .077.
That's well-below what the typical big leaguer does when he puts the ball in play with the bases loaded-- a rate of about 31 percent of balls being Well-Hit.
Whenever our analysts talk about bases-loaded hitting on Baseball Tonight, across the board, they say the same thing: The pressure should be on the pitcher. For the Mets the pressure has been on both their hitters and their pitchers. Neither has come through. And the results have been very, very costly.