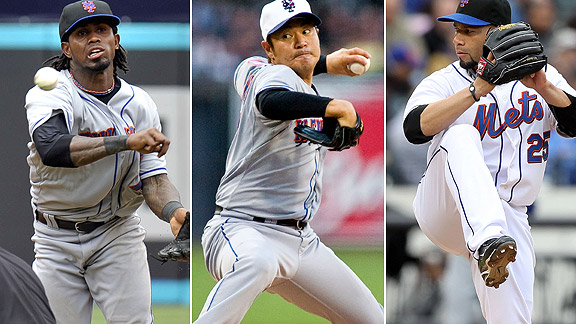 US Presswire/Icon SMI/Getty Images
Although the guaranteed portion of Jose Reyes' contract is set to expire, there have been no extension talks with the shortstop, or pending free agents Hisanori Takahashi (center) and Pedro Feliciano (right).
The Mets have shelved talks with their potential free agents -- or, more precisely, not had any discussions at all -- until the front-office composition is resolved.
In the case of Jose Reyes, that means the Mets eventually are expected to exercise Reyes' $11 million team option for 2011.
That would not preclude subsequent discussions on an extension that could supersede that option taking effect.

#7 SS
New York Mets
2010 STATS
GM

124

HR11

RBI51

R81

OBP.324

AVG

.285
In fact, although backloading contracts can have its own perils, the Mets could ultimately attempt to sign Reyes to a multi-year deal with a significantly lower salary next season in order to gain some payroll flexibility. Reyes would then be rewarded with higher numbers in the later years of the deal.
If Reyes is back just under the $11 million option terms, and factoring in the likely arbitration awards for Mike Pelfrey (who will get a raise from $500,000), Angel Pagan (raise from $1.45 million) and R.A. Dickey ($600,000), the Mets' payroll is approaching $130 million before any winter maneuvers are made.
Both primary left-handers in the Mets' bullpen -- Pedro Feliciano and Hisanori Takahashi -- are due to be free agents.
Under normal circumstances, the 35-year-old Takahashi, who pitched 10 seasons for the Yomiuri Giants in Japan, would be considered a rookie by Major League Baseball standards and be under the Mets' control for another five seasons.

#47 RP
New York Mets
2010 STATS
However, Takahashi's agents -- who also represent Johan Santana and Reyes -- placed into the southpaw's original minor league deal a stipulation that Takahashi had the right to be a free agent after this season.
The Mets have exclusive negotiating rights through October. Takahashi has professed his affection for New York, but he also wants to start. Conceivably, a fair monetary offer, plus a pledge to allow him to compete for a starting role in spring training, would be enough to retain Takahashi.
That type of promise might not be too dangerous anyway.
After all, if the Mets don't throw around big dollars this winter, which is the expectation, they should have competition for the fifth starter's spot behind Santana, Pelfrey, Jon Niese and Dickey. That battle could feature Jenrry Mejia, Dillon Gee and Takahashi as well as whichever low-priced veteran candidates the Mets bring in on nonguaranteed deals. And if Santana isn't ready for April, which is a distinct possibility, Takahashi's ability to serve multiple roles -- everything from starting to closing -- could be particularly valuable.
Of course, there's an open question about Takahashi's capability to be a major league starter. Overall, Takahashi was 4-4 with a 5.01 ERA in 12 starts this season. The opponent batting average the first time a hitter faced Takahashi in those dozen starts was .229. The second plate appearance, the average rose to .293. It was .381 in the third encounter and beyond in Takahashi's starts.

#25 RP
New York Mets
2010 STATS
Feliciano, due to be a first-time free agent after making $2.9 million this season, may be the most tricky call. The durable southpaw set franchise records for relief appearances in 2008 and 2009, with 86 and then 88. That workload concerned the Mets enough that they decided to wait until this upcoming offseason to talk extension with Feliciano. After all, they reasoned, why lock up Feliciano early if he could break down because of all the appearances he has logged?
The second part of the reasoning was that, as a New York team, the Mets would not be in danger of losing Feliciano as a free agent because they would have the most dollars to spend if it's something they ultimately wanted. Now, though, the Mets have serious payroll issues and it may not be that simple.
Could the 34-year-old Feliciano get a two-year deal with a vesting option elsewhere that's worth more than $3 million annually? It's entirely possible.
Would the Mets be willing to go there? It's debatable, and the answer likely needs to wait for a GM to be identified.
Feliciano made his 85th appearance Tuesday and is threatening to set a franchise record for the third straight year. His three-year appearance total (259) blows away the field. The second-most relief appearances in the majors since 2008 is Carlos Marmol with 232, followed by Matt Guerrier with 224, Aaron Heilman with 214 and Francisco Cordero with 210.
If Feliciano has five appearances over the Mets' final 11 games, he will become only the fifth pitcher in major league history to reach the 90-relief-appearance plateau, joining Salomon Torres (2006), Kent Tekulve (1978, '79, '87), Mike Marshall (1973, '74) and Wayne Granger (1969).
One complication for Feliciano is that he could end up a Type A free agent -- meaning, assuming the Mets offered arbitration, a team signing Feliciano might be required to forfeit a first-round pick to the Mets.
It's not that simple, though. The Mets offering arbitration to Feliciano means he could come back and stick them with an enormous arbitration award approaching $4 million -- a dicey gamble in order to pick up a draft pick. So the organization might not be wise to offer Feliciano arbitration if he's ultimately headed elsewhere.
From Feliciano's perspective, having a Type A label and the Mets offering him arbitration could make it difficult to get interest elsewhere, as reliever Juan Cruz found out two offseasons ago.
Meanwhile, in a division with Ryan Howard and Chase Utley in Philadelphia and now Jason Heyward joining Brian McCann in Atlanta, how would the Mets replace Feliciano? They have struggled for years to identify a second left-hander to pair with him in the bullpen, which has necessitated the heavy workload.
Bottom line: Is the current inaction hurting the Mets? Arguably so, although it's clearly better to first have a front office in place than to have one regime saddle another with more contracts. But, for point of reference, Reyes' last contract -- the four-year, $23.25 million deal that is set to run out with the exception of the option -- was completed in August 2006.
In Feliciano's case, his agent will be free to discuss interest with other teams immediately after the World Series. Feliciano could start accepting actual bids 15 days beyond that.
"I think we're going to wait until the World Series and see what happens," Feliciano said. "I want to see what's going to happen in the free agency."