Jerry Manuel said he has been given zero indication from his superiors his fate. And the manager suggested he ought to be told before the fate is whispered to media.
"That would obviously be the honest thing, or the integrious [sic] thing, to do," Manuel said. "No question."
And, Manuel noted: "I haven't been told anything."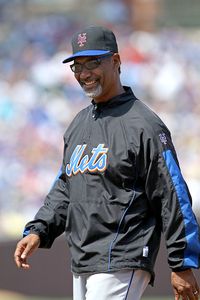 Jonathan Daniel/Getty Images
Jerry Manuel likely is spending his final weekend as Mets manager.
Manuel, who has been fired once before, as Chicago White Sox manager, said this time doesn't feel like then -- when he knew the axe was coming.
"I don't have the same feel that I had when I was let go by Chicago," Manuel said. "I don't know why. I'm just being honest with you. I just feel like there's something here for me to do and it hasn't been completed. I don't know if I will get that opportunity, but I just don't feel that I won't."
Although all indications are he will not remain, Manuel spoke of unfinished business.
"Obviously I like what I'm doing, and I love obviously the city," Manuel said. "I love this environment. I look forward to hopefully getting the opportunity to help turn the franchise around. We've just had a couple of tough years, obviously. I think we have solidified some people as far as identifying and evaluating major league players that we think can compete for a championship. So this is what I love to do. It would be very disappointing if it doesn't happen. Obviously, you have to understand what this is about and so forth. But this is something that I love to do. I really enjoy it."
He suggested one regret is not having his full squad together for any length of time during his tenure because of injuries.
"Every team has those things, and definitely we were hit very hard," Manuel said. "I think that would be probably the only thing I regret is that I never really had the piece that we had put together to last for a significant time. That would be the toughest thing for me to overcome personally. I don't worry about my strategy, how I handle the team, blah, blah, blah -- all those types of things."
Still, Manuel wasn't deflecting blame elsewhere.
"As the manager of the team, I've never not ran from blame or anything like that," Manuel said. "I'm the manager of the team. I managed the pieces and the resources the best way that I could and it didn't work out. We didn't finish where we wanted to finish. I take responsibility for that."