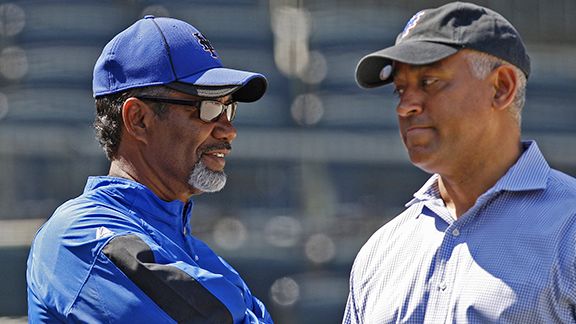 AP Photo/Kathy Willens
Jerry Manuel and Omar Minaya are due to meet with chief operating officer Jeff Wilpon on Monday to learn their fates.
Omar Minaya and Jerry Manuel have appointments to meet with chief operating officer Jeff Wilpon on Monday to officially be told their fates.
Manuel's tenure as manager lasted five extra innings Sunday, before the Mets lost to the Nationals, 2-1, in the 14th when Oliver Perez struck out Ian Desmond, then plunked Adam Kennedy with a pitch and walked three straight batters to force in the decisive run. At 0-5, Perez had the second-most losses in franchise history without producing a win. John Franco was 0-8 in 1998.
Perez appeared in only three of the Mets' final 57 games, and Manuel said he regretted inserting the southpaw given that the lack of use would make it difficult for Perez to succeed. Perez, who is due $12 million next season, was serenaded at one point with derisive chants of "M-V-P, M-V-P" from the Citi Field crowd and was lustily booed afterward.
Pedro Feliciano and Elmer Dessens weren't available because of excessive recent use.
The Mets finished the season 79-83, in fourth place in the National League East.
"I felt bad that we had to put Ollie in a situation like that," Manuel said. "We had no choice. We had nothing left. That bothers me. He hadn't pitched in a while. That was a tough situation for him. I think out of anything that bothered me the most."
Manuel agreed that the game was a microcosm of the season, with the offense barely mustering anything. Still, he felt good about allowing David Wright and Jose Reyes to take the field for the ninth and then pulling them so that they could get ovations.
"We struggled pretty much all year offensively," Manuel said. "We had some opportunities. But I think the one good thing that we did do this year was I think we have established some young players. I think some young players are now ready to become part of key foundational pieces for the organization, for the franchise. Ike Davis is a piece. I think Dillon Gee is a piece. I think Josh Thole is a piece. I think Ruben Tejada can help. I don't know if he's that piece yet; it depends on the rest of the guys.
"Angel Pagan had a good year. I would have liked to have brought him off [during an inning for an ovation] with the rest of the guys [Wright and Reyes], but I didn't have enough players left. But he had a tremendous year as well."
Manuel went 204-213 in two and a half seasons with the Mets after taking over for Willie Randolph. Manuel's wife Renette was in the back of the press conference room dabbing her eyes as the manager did his last postgame as Mets skipper. Asked about his legacy postgame, Manuel took the question in stride.
"Hmmm, I didn't have much -- I don't leave much, really," he said. "I would hope that going forward that the Reyeses and the Wrights have become a different level player. I would hope the young players that we established become core pieces, foundational pieces. If that's the case, then we're very close -- or whomever is very close -- to getting the organization back into the mindset of an upper-division club. We cannot at this point consider that to be the case."
As for the upcoming meeting with Wilpon and his immediate plans, Manuel said: "Well, I've got to pack up, clean up. I've got to do all that kind of stuff. And then I'll come in and find out exactly what direction the organization wants to go. And then I'll head to Sacramento and pick up rocks or something and try to figure some things out."
Asked if the Mets had the pieces to compete in 2011, no matter who is in charge, Manuel emphasized the need for a big bat and for bullpen help.
"There are some things that have to be added. No doubt about that," he said. "Anytime you try to establish youth, there's going to be a period of struggle. There's going to have to be some other pieces to complement. You're going to have to find some strength, especially in the bullpen. That's going to have to be the mindset going forward. ... I'm always a believer in pitching and defense. I thought for the most part we pretty much established that. But I do think in going forward that a run producer -- a big run producer -- has to be a part of the mix as well. You're just going to have to find that run producer, whether he be an infielder or an outfielder or whatever. You're going to have to find that run producer, especially if a Josh Thole is your catcher and you're not expecting [power] production there. In the positions you have remaining, you're going to have to find a run producer."
Manuel said he was proud to maintain a positive working relationship with the players, even if there were occasional squabbles, such as the John Maine incident in D.C.
"For the most part, as individuals, we had our challenges," Manuel said. "But I thought the one thing was we never lost the team."