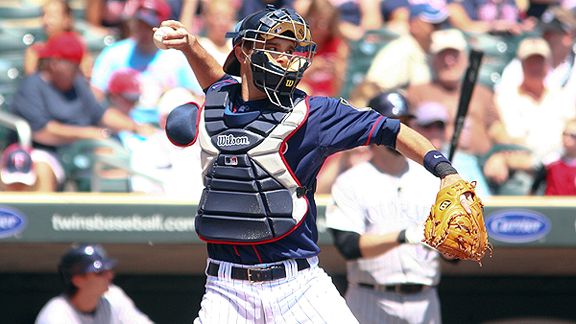 Brace Hemmelgarn/Icon SMI
Drew Butera was drafted by the Mets in 2005. He was traded to the Twins two years later for Luis Castillo
Drew Butera will not see much postseason action as the backup at catcher to Joe Mauer with the Twins. But the former Mets farmhand nonetheless has paid dividends in his rookie season for Minnesota.
Butera, who primarily caught Carl Pavano during the regular season, was acquired along with minor league outfielder Dustin Martin on July 30, 2007 when the Mets originally obtained second baseman Luis Castillo.
"He calls a good game. He's a good catch-and-throw guy," Mauer said. "He can definitely handle a staff. He's been good for us."

#41 C
Minnesota Twins
2010 STATS
GM

49

HR2

RBI13

R12

OBP.237

AVG

.197
Butera was drafted in the fifth round in 2005 by the Mets. That year, the Mets also selected Mike Pelfrey in the first round as well as Jon Niese (seventh round), Bobby Parnell (ninth) and Josh Thole (13th).
Butera's father Sal, now a scout for the Toronto Blue Jays, is a former major league catcher, who won a World Series title in 1987 with the Twins as the backup catcher to Tim Laudner.
ESPNNewYork.com caught up with Butera, 27, on Friday at Yankee Stadium, the day before Game 3 of the American League Division Series in the Bronx:
Do you have any particular memory of playing in the Mets' system? Anybody you're still close to?
"Yeah. I hung out with all the guys, like Josh Thole, Nick Evans, Daniel Murphy -- a lot of guys that have been up now I played with up through Double-A, and even against them sometimes in Triple-A. I've got a lot of good memories with the Mets."
Everyone talks about Twins minor league system. Having played in the minors for both the Mets and Twins, are there certain characteristics that make Minnesota successful in developing players?
"I wouldn't say anything crazy, but I know we play the game the right way. They teach fundamentals at a young age. From top to bottom, nothing really changes. From Gardy [manager Ron Gardenhire] all the way down to rookie ball, they teach how to go about the game the same way. And they do the same thing -- bunt, move guys over. In seasons' past they've never been a team like the Yankees that just hit home runs Nos. 1 through 9. We have to do the little things, and that's what we preach and we practice and that's why we're good at it. That's why we're here every year."
When Minnesota traded the catching prospect Wilson Ramos to Washington for reliever Matt Capps earlier this year, that obviously benefited you. Did you wonder where you stood before that?
"It was one of those things where if I was in Triple-A or the big leagues, I was just going to play the game the same way. I try not to let that stuff worry me. Obviously, yes, I like to be in the big leagues and it worked out good that he's going to get the opportunity there. It's just one of those things where I didn't let it bother me too much and wherever I was going to be, I was going to play the game the same way."
Since Mets fans may see Ramos for a long time in the division with Washington, what's a scouting report on him?
"Watch out, he's a good player, an all-around player. He can hit, and hit with power. And he's got really good defensive skills."
This is your first year as a major leaguer. What has the playoff experience been like?
"I'm really just taking it in as a normal game that we have to win. I've been around it when I was younger, but as a player it's a little different experience. But it's fun. I'm having a good time."
When you say around it younger, you mean the World Series with your father?
"I don't really remember a whole lot about it. I remember there being a lot of people and the celebration afterward. As far as the stuff that I'm feeling now -- the must-win stuff -- I was a little kid back then [four years old]. I was like, 'Oh, it's another day at the field.'"
What's it like watching Joe Mauer up close?
"Obviously he's a great player. But you hear so much about how he's such a great guy. And you're like, 'How is it that a guy who has so much attention really takes the time to be an individual good guy to everybody?' He really is. That stands out to me the most, how he genuinely cares about each of his teammates. The on-field stuff is obviously fantastic and you just kind of marvel at the stuff he's able to do. But the fact he's genuine and a good, real person, that's what hits me the most."