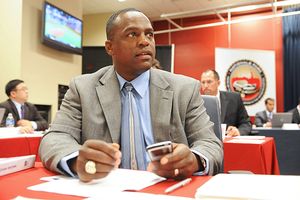 Mitchell Layton/Getty Images
Dana Brown is scheduled to interview for the GM position on Wednesday.
Dana Brown, a special assistant with the Toronto Blue Jays, is scheduled to interview Wednesday for the Mets' GM position. He previously spent eight seasons as director of scouting for the Washington Nationals/Montreal Expos, during which that organization selected Ryan Zimmerman, John Lannan and Collin Balester.
Brown graduated from Seton Hall University, where he played with Craig Biggio, Mo Vaughn and John Valentin. He lives in Franklin Park, N.J.
Brown, who is African-American, will become the first minority candidate to interview for the GM position. Last week, the Mets interviewed five candidates: former Kansas City Royals GM Allard Baird, Chicago White Sox assistant GM Rick Hahn, former Arizona Diamondbacks GM Josh Byrnes, MLB's Sandy Alderson and Los Angeles Dodgers assistant GM Logan White.
Alderson is scheduled to return to Citi Field on Thursday, but the Mets say that's merely a completion of his first-round interview.
Second-round interviews for the finalists will take place with principal owner Fred Wilpon and team president Saul Katz next week, according to the organization.