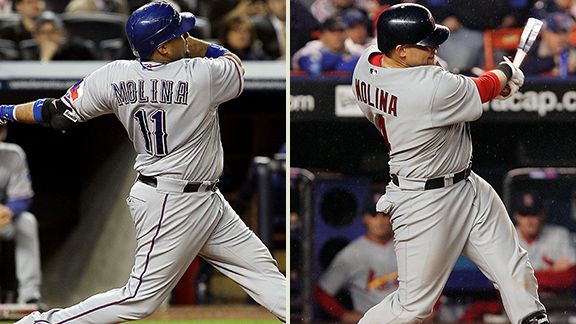 US Presswire, Getty Images
Bengie Molina (left) has go-ahead homer against Yankees in ALCS four years to the day after younger brother Yadier Molina (right) won Game 7 of the NLCS at Shea Stadium against the Mets.
Beware the Molinas in New York ballparks on Oct. 19.
Four years to the day after brother Yadier Molina hit the tiebreaking homer off New York Mets reliever Aaron Heilman in the ninth inning of Game 7 of the NLCS at Shea Stadium to lift the St. Louis Cardinals to a 3-1 victory and a World Series berth, Bengie Molina hit a series-tilting ALCS homer in the Bronx.
After an intentional walk to David Murphy, Molina launched a three-run homer in the sixth inning Tuesday at Yankee Stadium off A.J. Burnett that gave the Texas Rangers a 5-3 lead in Game 4. The Rangers ultimately won, 10-3, to take a 3-1 series lead.
Bengie's eyes lit up when he was asked where he was during his little brother's big moment. "Two minutes before it happened, I was actually yelling in my kitchen, 'Sit on the change! Sit on the change! Sit on the change! Please, just sit on the change!' " Bengie recalled about watching the confrontation between Yadier and Heilman on TV. "And he threw a changeup. And I was very happy. So I had a lot of fun that day."
Still, Bengie suggested Yadier's moment was bigger, since the shot by the youngest of the catching Molina brothers essentially sent St. Louis to the World Series.
"I don't think it's the same," Bengie said. "I think it's very happy for both of us, but he enjoyed it a lot. I'm just here still waiting for one more game and then we'll see what happens."
"That was different," agreed Rangers left-hander Darren Oliver, who was on the 2006 Mets, referring to Yadier's shot. "But I'm glad I was on the right side of it this time. At least I've got one of the Molina brothers on my side."
Molina did not quibble with Yankees manager Joe Girardi's decision to intentionally walk Murphy to get to him.
"He did the right thing," Bengie said. "Murph is a great hitter. He kills right-handers. Why not walk him and face me? I haven't been having a great season. I don't think it's a bad move. I think it's the right move that went wrong."
Bengie now has five career postseason homers -- four against the Yankees. Three came during a 2005 division series in which the Angels ousted the Yankees in five games.
"I don't know," he said when asked to explain the success against the Yanks. "I don't see who I'm facing, I'll tell you that. I've been very blessed, I think, by God just to give me good games against them. I don't think I see it like, 'Here comes the Yankees, and I'm going to have a great game.' I don't see it that way."
Still, Bengie added: "It's not a bad job for a fat kid that everybody makes fun of the way he runs."
The Cardinals, despite 83 regular-season victories, went on to win the World Series over the Detroit Tigers in 2006 after Yadier's longball.
As for what Yadier must have been thinking watching him homer on Tuesday night at Yankee Stadium, Bengie said: "He's probably going to text me so much. He's enjoying this a lot. They're enjoying it. They're at home, having fun. They have a great game room to watch the games."