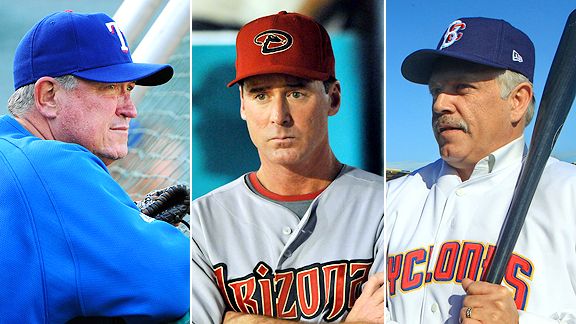 AP Photo, US Presswire
Clint Hurdle, Bob Melvin and Wally Backman all figure to get consideration as the Mets' next manager from new GM Sandy Alderson.
While Sandy Alderson presented his thoughts on potential managerial candidates during his own interview with the organization, a team official indicated the Mets have yet to start reaching out to request permission and set up interviews.
It is widely believed Alderson would prefer a candidate with managerial experience, who will adhere to the front office's philosophies regarding a distaste for bunting and giving up outs, as well as someone with New York ties.
Here are potential candidates:
Wally Backman. Backman, the fiery '86 Met, very likely will get an interview. But organization insiders predict he's just as unlikely to be the actual hire. Backman managed the Brooklyn Cyclones to the New York-Penn League championship series this season after a five-year exile from affiliated baseball.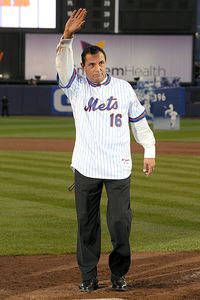 Al Bello/Getty Images
Lee Mazzilli is among a host of current and former Mets likely to be considered for the skipper job.
Terry Collins. Collins is an organization favorite, and may very well be best suited remaining in his role overseeing the Mets' farm system. Still, Collins has experience managing the Astros (1994-96) and Angels (1997-99). He went 444-434 during that six-year span.
Chip Hale. The 45-year-old Hale made an instant positive impression in his first year as third base coach because of his preparation and work ethic. He and pitching coach Dan Warthen are likely to be on the 2011 staff in some capacity.
Clint Hurdle. Currently the hitting coach for the Texas Rangers, Hurdle has Mets ties, having appeared as a player with the organization in 1985 and '87. He managed Colorado from 2002-09, including skippering the incredible '07 late-season run that eventually landed the Rockies in the World Series. Hurdle has a connection to Alderson via Jay Alves, a current Rockies VP who formerly worked in Oakland.
Lee Mazzilli. Brooklyn-raised and an ex-Met, he also has experience as a major league manager, with Baltimore. Mazzilli remains close to Mets principal owner Fred Wilpon.
Bob Melvin. Reportedly a finalist for the Milwaukee Brewers managerial job, Melvin spent the season as an AL scout for the Mets. He already has an apartment and spends his winters in Manhattan, because his daughter, now an actress, attended college in the city. He's also highly intelligent, which is a match for Alderson. Melvin managed the Seattle Mariners (2003-04) and Arizona Diamondbacks (2005-09).
Ken Oberkfell. A former major league infielder for the St. Louis Cardinals and Atlanta Braves, the likable Oberkfell has managed the Mets' Triple-A affiliate through stops in Norfolk, New Orleans and now Buffalo. Oberkfell is again managing Escogido in the Dominican Republic this winter. Last year, he led that squad to the Caribbean Series title.