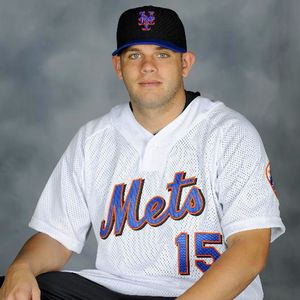 Courtesy of New York Mets
Nick Carr is pitching in the Arizona Fall League after returning from Tommy John surgery in June.
After an 11½-month recovery from Tommy John surgery, Mets farmhand Nick Carr returned to game action with a scoreless inning in the Gulf Coast League on June 22.
The 23-year-old right-hander went on to make 24 relief appearances between three Class A levels, going a combined 2-2 with a 4.70 ERA while striking out 36 and walking 23 in 30 2/3 innings.
Now, the hard-throwing Carr is part of the Mets' Arizona Fall League contingent. Through six relief appearances for Mesa, he is 0-1 with a 4.50 ERA and has allowed 10 hits with five strikeouts and five walks in 10 innings.
"I'm glad to be down here and be facing some of the best players that are in the minor leagues right here," Carr said. "So it's a good challenge. And with me having my surgery and things like that, I didn't get to pitch in Double-A this year. So it's a good experience for me to see what those hitters are like down here as well."
Carr was part of a 2005 draft for the Mets that proved to be bountiful. Despite not having second- and third-round picks that year as the result of signing Pedro Martinez and Carlos Beltran as free agents, five draft selections from that year have nonetheless appeared in the majors: Mike Pelfrey (first round), Drew Butera (fifth), Jon Niese (seventh), Bobby Parnell (ninth) and Josh Thole (13th). Butera was sent to Minnesota in the July 2007 trade for Luis Castillo and is Joe Mauer's backup at catcher with the Twins.
Carr was a 41st-round pick out of high school in Idaho, in a since-abolished process known as draft-and-follow. He played a season at the College of Southern Idaho and then signed with the Mets, who had retained his rights. Carr had moved to the state during high school after growing up in California.
"I definitely wanted to sign. I definitely wanted to play," Carr said. "So it wasn't really too much of a question. There was a money amount I did want. They ended up giving me what I wanted, so I signed and decided to play."
The Mets used Carr nearly exclusively as a starter during his first three professional seasons. That included during a rough 2008 season in which Carr had an 0-10 record and 7.18 ERA at Class A St. Lucie before picking up an Aug. 16 win at Brevard County during which he limited the Manatees to one run in 5 1/3 innings in what became a 2-1, seven-inning victory. Carr since has moved to relief.
"I don't really want to talk too much about 2008," Carr said. "… 2008 was a bad year for me as a player. It was a learning experience for me. Wins and losses wasn't really what I was too much concerned about as opposed to just getting better and getting on the right track.
"I like it a lot better," he added about relief. "I think it suits me more as a player being out of the bullpen. I'm more come in for one or two innings toward the end of the game. That's kind of the role I want to be in."
Carr estimates his fastball has been sitting at 95-96 mph and touching 98 mph during the Arizona Fall League.
At the start of the AFL season, farm director Adam Wogan offered this analysis of Carr: "Nick throws hard. He was a starter at the beginning of his career and it was a good place for him to get the innings. He threw both a curveball and a slider. He's more throwing a slider now and can show really good fastball velocity -- anywhere up to 98 mph, even 99 mph. I think he's touched triple-digits in the past for whatever accuracy you give that on some of these guns. He definitely throws the ball hard, and is working on commanding the fastball and the slider a little better."
Said Carr: "I had pretty good control coming back from my surgery, and things are going well now. I'm anxious to keep going and finish up at the Fall League strong and look forward to next year and see what it brings."