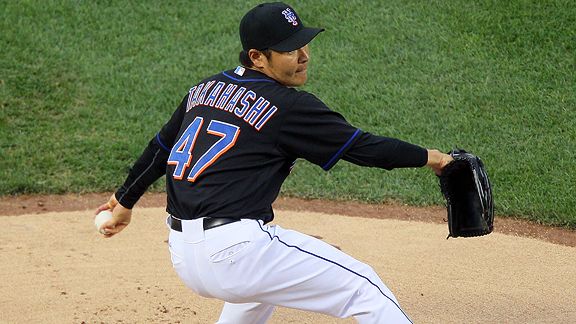 Jim McIsaac/Getty Images
If Hisanori Takahashi doesn't sign by midnight, he is headed elsewhere in 2011.
The Mets face a midnight deadline to sign Hisanori Takahashi. Otherwise, the Mets contractually must release the Japanese left-hander. And because baseball rules would prohibit the Mets from re-signing Takahashi and using him in the majors before May 15 if he is released, if Takahashi does not re-up today, he is sure to sign elsewhere.
The Mets reportedly have taken a hard line with Takahashi's agent, Arn Tellem. The Times reports the Mets are balking at guaranteeing a second year.
The 35-year-old Takahashi went 10-6 with a 3.61 ERA and eight saves in 53 appearances (12 starts) in his first season in the majors after spending 10 years with the Yomiuri Giants.
Given the uncertainty about when Johan Santana will be able to contribute to the rotation next season, Takahashi's versatility could be extremely valuable. Also, the Mets risk losing their other primary left-handed reliever, workhorse Pedro Feliciano, as a free agent.
Still, Takahashi likely should be viewed more as a reliever with fill-in starting ability than a potential full-year member of the rotation.
In his 12 starts, the first time a batter faced Takahashi in a game, the opponent hit .229. In the second plate appearance, the average rose to .293. In the third plate appearance and beyond, the average was .381.
"Talk about flexibility, and here's a guy that can -- maybe not as effectively -- but can start, can relieve," GM Sandy Alderson said at his introductory press conference last Friday. "There's a lot of value in that. We're going to look at it hard. On the other hand, we have to make a judgment about what we think he's worth."