Clint Hurdle is one of the most well-read people Denver Post baseball writer Troy Renck knows. And Hurdle, reportedly a finalist in Pittsburgh, definitely appears on the Mets' managerial radar as well. In fact, the New York Post reports an interview with Sandy Alderson is expected to occur next week.
Here are some thoughts from Renck on Hurdle's time with the Rockies, during which the skipper went 534-625 from 2002 through the first 46 games of '09. Colorado made the 2007 World Series.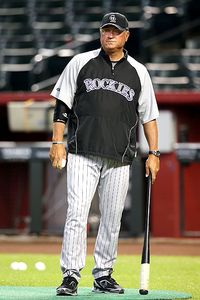 Christian Petersen/Getty Images
Former Rockies manager Clint Hurdle.
Hurdle and former Seattle Mariners manager Don Wakamatsu are considered two strong external candidates.
You can check out Renck's Rockies coverage here.
What are Clint Hurdle's strengths as a manager? Or what did the players appreciate?
"He's an unbelievable communicator, a huge personality. You know he's there from the moment he arrives at the park. It's impossible to miss in terms of his personality and presence. He's a great teacher of hitting. And a strength of his is just that positive energy. Certainly when they were a young team, going through a youth movement, how to deal with young players and how to keep the glass half-full, he was very good about that when they were in their rebuilding process."
When you say personality, any examples?
"Well, he's as bright as any guy I've ever interviewed in a uniform. He was accepted to Harvard. He had a chance to play college football at Miami. It's understood that he was like the first high school quarterback ever to call his own plays and audible. He's a bright guy. He ran Rockies fantasy camp for years, and he actually ran the Mets camp for part of that time as well. People would go to that camp just to get ripped by him. He's like a roast dinner. He's so funny and biting in that way. Whether it's one-liners or killing a story, I mean he literally could go on stage right now and make people laugh and cry. He's an unbelievable public speaker."