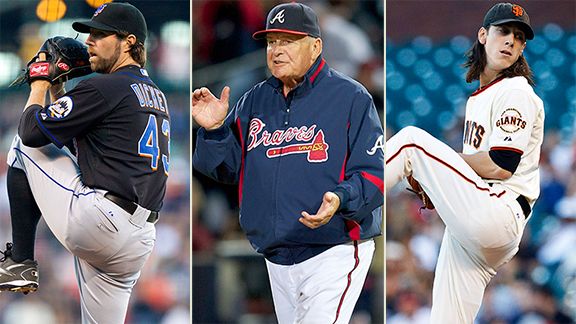 US Presswire
R.A. Dickey, Bobby Cox and Tim Lincecum are among the people to be honored at the Jan. 22 BBWAA dinner at the New York Hilton.
At Tuesday's meeting of the New York chapter of the Baseball Writers' Association of America, the group selected its award winners for the 2010 season. Those awards, plus the MVP, Cy Young, Rookie of the Year and Manager of the Year awards, will be presented at a dinner on Saturday, Jan. 22 at the New York Hilton.
Nearly all of the award recipients -- both for the chapter and national awards -- usually are in attendance and speak. For ticket information, contact Phil Pepe at 201-871-5924 or email him at philpepman@cs.com.
The chapter selections:
Willie, Mickey and the Duke Award: Joe Torre, Lou Piniella and Bobby Cox
Joan Payson Award for community service: the late George Steinbrenner
William J. Slocum-Jack Lang Award for Long and Meritorious Service: the late Bill Shannon
Joe DiMaggio Toast of the Town Award: Robinson Cano
Ben Epstein-Dan Castellano Good Guy Award: Phil Hughes
Sid Mercer-Dick Young Player of the Year Award: Josh Hamilton
Babe Ruth Award (postseason MVP): Tim Lincecum
Casey Stengel You Could Look It Up Award (person previously unrecognized by chapter): Harmon Killebrew
Arthur and Milton Richman You Gotta Have Heart Award: R.A. Dickey