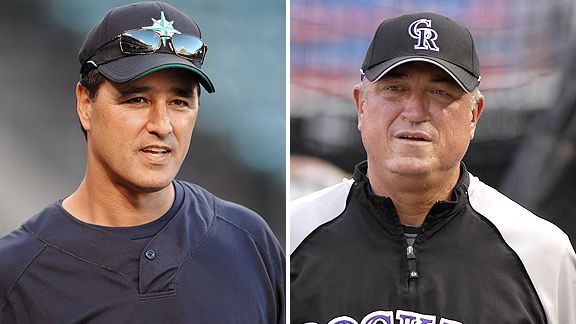 US Presswire
Don Wakamatsu and Clint Hurdle interviewed for the Mets' managerial job on Wednesday at Citi Field. Read the full news story here.
For detailed bios, read the candidates' 2010 media guide entries:
DON WAKAMATSU BIO
PERSONAL: Donald Wakamatsu…resides in North Richmond Hills, Texas, with wife, Laura, sons: Jacob and Lucas, and daughter Jadyn… was the first Asian American to be named manager of a major league club when hired prior to the 2009 season…graduated from Hayward High School (Calif.) in 1981…three-sport prep star, lettering in baseball, basketball and football…earned four varsity letters under College Baseball Hall of Fame coach Jim Brock at Arizona State University (1982-85)…was the Sun Devils starting catcher from 1983-85, batting .314 (223-for-711) with 22 doubles, 3 triples, 18 home runs and 133 RBIs in 196 career games with ASU…played in the 1983 and 1984 College World Series…three-time All-Pac-10 selection (1983-85)… team captain in 1985.
MANAGING/COACHING CAREER: Was 85-77 in his first season as a big league manager, a major league-best 24-game improvement over 2008…became just the third Mariners manager to post a winning season in his first year, joining Lou Piniella (82-80 in 1993) and Bob Melvin (93-69 in 2003)…he and Piniella are only two Mariners managers with a career winning percentage above .500…oversaw a clubhouse makeover that helped Mariners become just the 13th team since 1901 to post a winning record the year after losing 100+ games…succeeded despite having 16 players combine for 19 stints on the disabled list accounting for 952 missed games…won his first game as manager, 6-1 at Minnesota April 6, 2009…posted a winning record on his first road trip (5-2)…Seattle had a winning record in five (April, June-Sept.) of six months, one year after posting a winning mark in no calendar month…owns a career 215-248 (.464) record in four seasons as a minor league manager in the Arizona and Los Angeles Angels organizations…made his managerial debut in 1997 with the Diamondbacks entry in the Arizona Rookie League…took over team in July, guiding club to 22-20 record…managed in the Diamondbacks organization at High Desert (A) in the California League in 1998 and at El Paso (AA) in 1999…led High Desert to second-half Southern Division title and named the California League Manager of the Year in 1998…managed future major leaguers Rob Barajas, Junior Spivey, Erubiel Durazo, Brad Penny and John Patterson at El Paso in 1999…moved over to the Angels organization in 2000 and managed at Erie (AA) in the Eastern League.
PLAYING CAREER: Selected by the Cincinnati Reds in the 11th round of the 1985 June draft…12 seasons as a catcher with seven organizations during his professional playing career from 1985-96…appeared in 18 Major League games with the Chicago White Sox in 1991…batted .226 (7-for-31) with one double…recorded first Major League hit May 22 at California…all nine starts behind the plate came with knuckleballer Charlie Hough on the mound…went to Major League spring training with the Rangers in 1994…combined to bat .330 (115-for-348) in 113 games with Albuquerque (AAA) in 1992-93…missed parts of the 1993 and 1994 seasons with a torn ligament in his right elbow…topped Southern League catchers in fielding percentage at Birmingham in 1989 (.990) and Billings in 1985 (.998)…made his professional debut with Billings in the Pioneer League in 1985.
CLINT HURDLE BIO
RANGERS: Hurdle was named the team's hitting coach on Nov. 5, 2009…he will be just the Rangers' second hitting coach in the last 16 seasons (1995-2010) and is the only new addition on the club's 2010 staff…made a few weeklong visits to Texas to work out with hitters over the offseason after being hired…also participated in organization's visit to children's hospital in Dallas in December…previously crossed paths with manager Ron Washington in the Mets organization in 1992, when Hurdle was manager at Triple-A Tidewater and Washington was on his coaching staff…spent time as an analyst on the MLB Network in the latter part of the 2009 season.
COLORADO: Spent over 15 years in the Colorado organization from 1994-2009, serving as a minor league hitting coordinator, major league hitting coach, and ultimately over 7 years as the team's big league manager…Manager: Compiled a 543-625 (.465) record while serving as Rox manager from April 26, 2002 until he was relieved from the post on May 29, 2009…has the most wins of any manager in team history, recording his 500th career win on Aug. 19, 2008 at Los Angeles…in 2007, led the Rockies to the World Series as club captured its first National League pennant in franchise history…that club won 21 of 22 games leading up to the World Series, where Boston executed a 4-game sweep…won 7 straight to begin the postseason, sweeping both NLDS (vs. Philadelphia) and NLCS (vs. Arizona)…his '07 club compiled the highest single-season fielding pct. in major league history (.989), a mark that still stands…in '07, finished in third place (4 first-place votes) in N.L. Manager of the Year voting…served as manager of the National League in the 2008 All-Star Game at Yankee Stadium (July 15, 2008)…was also a coach for the N.L. staff for the 2004 Classic in Houston…team went 6-0 in first 6 games under Hurdle in 2002, T6th-best winning streak following a midseason managerial change in major league history…Hitting Coach: He was a month into his sixth season as Rockies hitting coach when he was named manager on April 26, 2002…in his five-plus seasons tutoring Colorado's hitters, the club compiled the N.L.'s top two averages in a span of 70 years (.294 in 2000 and .292 in 2001) and the league's most base hits since 1930 (1,664 in 2000)…Rockies also established a major league record for total bases (2,748) and extra-base hits (598) in 2001…Colorado hitters posted the league's highest batting average in each of Hurdle's five seasons as hitting coach, leading in on-base percentage three times and slugging percentage on four occasions…Hurdle, who doubled as the club's first-base coach from 1997- 98, remained on the coaching staff under three different managers: Don Baylor, Jim Leyland and Buddy Bell…Minors: Served as minor league hitting coordinator in the Rockies minor league system from 1994-96.
IN THE METS SYSTEM: Before joining the Rockies, Clint managed in the Mets system for 6 seasons, including his last two years managing their Triple-A affiliate, Tidewater in 1992 and Norfolk in 1993…managed at Double-A in 1990 and 1991…in 1990, Clint led Jackson to a 73-62 overall record, including the league's second half Eastern Division title…directed St. Lucie (A) of the Florida State League to a 153-120 combined record in 1988 and 1989…in '88, his first year as a minor league manager and in his team's first season of existence, he led St. Lucie to the second half East title, followed by playoff victories over Lakeland (2-1), Tampa (2-0) and Osceola (2-0) to claim the FSL Championship…in 1989, his club compiled a 79-55 record, the best mark in the league and won the first and second half Eastern Division titles, only to lose to Charlotte in the playoffs.
PLAYING CAREER: After the Royals drafted him in the first round at age 17, Hurdle quickly climbed the organizational ladder… made the Triple-A club (Omaha) in his third pro season in 1977, and also earned the American Association Rookie of the Year and All-Star Game MVP…made his major league debut Sept. 18, 1977 and enjoyed a 10-year big league career, which included 5 seasons in Kansas City and tours with Cincinnati, New York-NL, and St. Louis…Baseball Digest and Topps named him to their 1978 All-Rookie squads…in 1980, his best overall season, he batted .294 with 10 homers and 60 RBI on the Royals' AL championship club…during the 1980 World Series against the Phillies, he hit .417 (5-for- 12)…was signed as a free agent by Tidewater (AAA) in 1983 and led the International League in doubles… in December of 1985, the Cardinals selected Clint from the Tides roster in Rule 5 Draft…made 40 starts for the Cards in 1986 at 5 different positions…in 1987, his last year as a player, Clint participated in 97 games with Tidewater and hit .333 in 3 contests with the Mets…spent the majority of his career in the outfield, but also worked at the corner infield spots and behind the plate…hit his final career home run at Minnesota's Metropolitan Stadium in September of 1981.
PERSONAL: Clinton Merrick (Clint) Hurdle…Clint and his wife, Karla, have a daughter, Madison Reilly (8/7/02) and a son, Christian Merrick (11/15/04)…Clint also has a 24-year-old daughter, Ashley (7/18/85), who graduated from the University of California- Santa Barbara and is currently an Account Executive in group sales with the Golden State Warriors of the NBA…Clint is the Prader-Willi National Spokesperson, an organization that raises awareness for Prader-Willi Syndrome, a complex genetic disorder his daughter Madison was born with…Prader-Willi affects about one in every 12,000 people and is caused by a lack of several genes on one of an individual's two chromosome 15s…was active in numerous charitable efforts while with Colorado…a 1975 graduate of Merritt Island (Fla.) High School, he lettered in baseball, football and basketball…a star quarterback, he signed a letter of intent to attend the University of Miami (Fla.), but chose to sign with Kansas City after the Royals selected him in the first round (ninth overall) of the 1975 June draft…batted .567 his senior year as an All-American prep…appeared as a 20-year-old on the March 20, 1978 cover of Sports Illustrated as a member of the Royals.