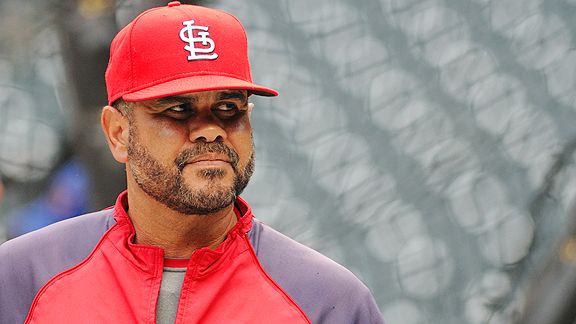 James Escher/Icon SMI
Jose Oquendo has a link to Sandy Alderson via Tony LaRussa.
When Sandy Alderson mentioned possibly adding an extra candidate to the managerial mix, a source indicates he may have been referring to Jose Oquendo, the longtime St. Louis Cardinals third base coach and an ex-Mets infielder. Oquendo currently is in Puerto Rico, where Alderson will be Saturday. (There is no definite word an interview will occur.)
Also, the frontrunners for the managerial job are becoming clearer. Terry Collins, Clint Hurdle and Bob Melvin all appear likely to get second interviews, and possibly Chip Hale as well.
Read the full story here.
Here is Oquendo's bio (with a couple of updates) from the Cardinals' media guide:
Oquendo completed his 11th season as the Cardinals' third-base coach, after joining the club's major league staff in 1999 as bench coach. Upon ending his playing career, he was a field instructor in the Cardinals farm system in 1997 before managing the Redbirds' New Jersey affiliate to a 34-41 finish in 1998. Oquendo's professional playing career spanned 17 seasons and included big league duty with the New York Mets (1983-84) and Cardinals (1986-95). Dubbed the "Secret Weapon" during his 10 seasons with the Redbirds, Oquendo established single-season major league records for the highest fielding percentage (.996) and fewest errors by a second baseman (three) in 1990. He also led the league in fielding in 1989 and compiled a .992 fielding average at second base for his career. Oquendo batted .286 for the Cardinals' 1987 pennant-winning club and hit a career-high .291 in 1989 while playing in a league-high 163 games. In 1988, Oquendo became the first National League player since 1918 to play all nine positions in one season. A native of Rio Piedras, Puerto Rico, Oquendo, 47, now makes his home in St. Louis County with his wife, Zenaida, their four children, and granddaughter, Gabriela. He was voted top utility man on the All-Busch Stadium II team in 2005. Oquendo managed the Puerto Rican team in the inaugural World Baseball Classic in 2006 and again in 2009 and was the manager of the victorious World Team during the MLB Futures Game that was played during the 2009 All-Star Week in St. Louis.