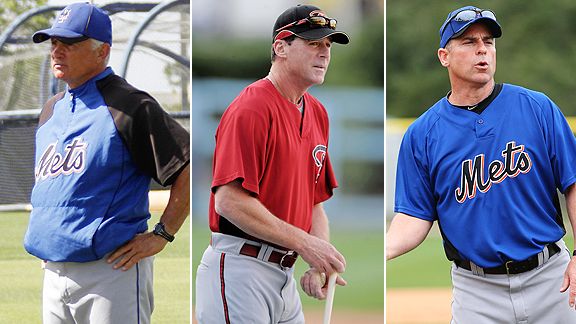 Icon SMI, US Presswire
Handicapping the race for Mets manager, Terry Collins (left) appears the clear-cut frontrunner, followed by Bob Melvin (center) and Chip Hale (right).
GM Sandy Alderson said Tuesday at the GM meetings that the organization had completed its first-round interviews, and that three to four candidates would be called back for second interviews, which should include speaking with chief operating officer Jeff Wilpon.
The strong expectation I have is that Terry Collins, Bob Melvin and Chip Hale are three candidates to be called back -- and that's the order of likelihood they will be hired by the Mets as manager.
Alderson did not announce the finalists, but said he hoped to make them public after the candidates getting callbacks were informed later Tuesday. He hoped to have those second-round interviews completed by the time front-office officials leave the GM meetings on Thursday, although Alderson did not rule out staying in Florida until Friday to complete that process.
"The first round is officially closed," Alderson said. "We hope to bring back several candidates over the balance of this week. If everything goes as we hope, we could have the second round completed by the end of the week. There won't need to be a Round 3. … I would say right now that it's very possible we'd have a manager announced by Thanksgiving."
Organization sources label Collins the frontrunner to be named Jerry Manuel's successor as manager, with Melvin viewed as the most likely alternative.
Still, Alderson did not acknowledge a frontrunner existed.
"Certainly it's not a foregone conclusion, or we wouldn't be wasting our time with the number of candidates," Alderson said. "It's open."
The Mets originally interviewed 10 candidates, although the pool dropped to nine when Clint Hurdle accepted the Pittsburgh Pirates managerial job. The other interviewees: Triple-A Buffalo manager Ken Oberkfell, Class A Brooklyn manager Wally Backman, bench coach Dave Jauss, Boston Red Sox third base coach DeMarlo Hale, former Seattle Mariners manager Don Wakamatsu and St. Louis Cardinals third base coach Jose Oquendo.
Collins, 61, joined the organization this past season as minor league field coordinator and is highly regarded by the Mets ownership group. He managed the Houston Astros from 1994 to 1996 and the Anaheim Angels from 1997 to 1999, compiling a combined 444-434 record.
Melvin, 49, managed the Seattle Mariners in 2003 and 2004 and the Diamondbacks from 2005 to 2009, posting a combined 493-508 record. He was named NL Manager of the Year in 2007. Melvin served as a scout for the Mets this past season, monitoring the AL East and West. Melvin has lived in Manhattan during the offseason in recent years, where his daughter Alexi attended the Lee Strasberg Theatre and Film Institute.
Chip Hale, 45, served as Mets third base coach this past season after serving in the same role with the Diamondbacks the previous three years. He managed Arizona's Triple-A Tucson affiliate from 2004 to 2006, and won the Pacific Coast League and Triple-A championships in the final of those three seasons while going 91-53. He is likely to remain in his current role as third base coach if he is passed over for the managerial job.