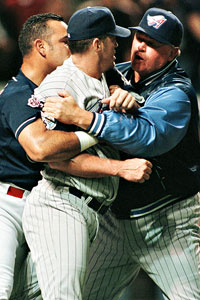 AP Photo/Tony Dejak
Angels pitcher Troy Percival is restrained by Cleveland's Carlos Baerga (left) and Angels pitching coach Dick Pole (right) on Aug. 31, 1999 at Jacobs Field. Mo Vaughn's lack of participation in the brawl furthered clubhouse friction and led Collins to resign three days later.
1. MO'S NO ANGEL: Terry Collins last managed in the majors in 1999, when he resigned from the Angels' helm with 29 games remaining. Clubhouse in-fighting reached a fevered pitch when DH Mo Vaughn did not join teammates during an Aug. 31 bench-clearing brawl. Players went to Collins and gave the skipper an ultimatum -- choose between Vaughn and the other player faction. Vaughn was held out of the lineup the next day. Two days after that, Collins quit. Joe Maddon, now the Rays manager and then Collins' bench coach, finished the season as manager. Mike Scioscia then took over the following year.
2. HIRE AUTHORITY: Paul DePodesta, the new Mets VP for player development and amateur scouting, wanted to hire Collins to replace Jim Tracy as Dodgers manager while serving as GM in Los Angeles. However, owner Frank McCourt wasn't thrilled with DePodesta's managerial candidates. DePodesta was fired during the search process. Ned Colletti succeeded DePodesta as Dodgers GM and hired Grady Little to manage the 2006 season. Collins had been what DePodesta labeled "an absolute star in player development" for the Dodgers while overseeing the farm system.
3. SECOND COMING: The Mets may very well be poised to be in the wild card race if Collins' track record holds. In his five full seasons as a skipper -- three with the Astros and two with the Angels, from 1994 through 1998 -- Collins' squad finished second in its division each time. His career major league managerial record is 444-434 over six seasons.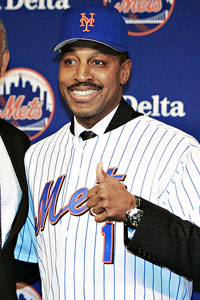 Ezra Shaw/Getty Images
Willie Randolph beat out other finalists Terry Collins and Rudy Jaramillo for the Mets' managerial job during the 2004-05 offseason.
4. SECOND TRY: Collins was one of three finalists for the Mets' managerial job during the 2004-05 offseason when the position went to Willie Randolph. The other finalist was Rudy Jaramillo, then the Rangers' hitting coach.
5. ACE IN CORNER: Sandy Koufax played high school baseball with Fred Wilpon, and is a close acquaintance of the Mets' principal owner. Still, when Koufax visited Mets camp during spring training in February, who did the Hall of Fame pitcher say he had come to see? Yes, his friend Collins. That was not an isolated incident, either. When Collins managed the Angels, Koufax paid regular-season visits to Collins when the team played at the Tampa Bay Rays. When Collins was managing the Dodgers' Triple-A affiliate, he would join the major league team for September. "When the game was over, I'd sit for hours with the staff and just listen," Collins once told the St. Louis Post-Dispatch. "That was the best way to learn. I had so many great people around. I talked catching with Roy Campanella and Del Crandell, pitching with Don Drysdale, Red Adams and Sandy Koufax. I can't tell you how many dinners I had with Koufax."
6. MINOR DOINGS: Collins played parts of 10 seasons in the minors with the Pirates and Dodgers, including 155 games at second base, 75 games at third base and 68 games at shortstop. He never reached the majors as a player.
7. COLLEGE DAYS: Eastern Michigan University inducted Collins into its Athletic Hall of Fame in 1994. He led the baseball team in steals each of his four years at the school, and was the shortstop on the 1970 NAIA national championship team. Collins was named most outstanding defensive player of the tournament that year.
8. SKELETON IN THE CLOSEST: On June 27, 2002, Collins was arrested at 2 a.m. in Augusta, Ga., and charged with driving under the influence of alcohol, operating an unsafe vehicle because his tire was flat, and failing to carry his license. He said last week that the incident was disclosed and discussed with Mets brass during his interview. Collins was minor league field coordinator for the Dodgers at the time.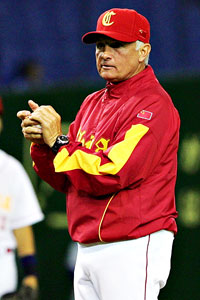 Koji Watanabe/Getty Images
Collins managed Team China in the 2009 World Baseball Classic.
9. ASIAN GAMES: Collins does have recent managerial experience, although it came with Asian teams. Collins managed a season and change with the Orix Buffaloes in Japan. He then managed China in the World Baseball Classic in 2009, leading that country to its first WBC win, over Taiwan. Collins had an 83-105-5 record before resigning during his second season in Japan. He admitted he did not have the patience for the differences in the game and management there, unlike Bobby Valentine, who thrived in the surroundings with Chiba Lotte. "I took it because I wanted to get back on the field, and it's a different situation over there," Collins said. "Bobby handled it a lot better than I wanted to."
10. TRIPLE-A RATING: Collins has plenty of supporters in Buffalo, where the Mets' top minor league affiliate is located. Collins managed the Bisons from 1989-91, as a Pirates affiliate. Had Buffalo been awarded a major league franchise, which once was a consideration, Collins likely would have been in line to manage. "The first Triple-A All-Star Game was in Buffalo, N.Y.," Collins said earlier this year. "… Buffalo had just built a brand new ballpark. And actually [team president] Bob Rich was trying to get a major league franchise. So I went in there as the National League manager. I guess they just liked my energy and my fire and they talked to the Pirates -- 'Hey, we'd like to have Terry Collins manage in Buffalo.' … I thought it was a great opportunity and a great chance, even though I had been a Dodger for many, many years. I thought it was time to branch out and go someplace else. It was the best move I ever made because the Riches were great. Buffalo, they considered it a big-league town with the Bills and the Sabres."